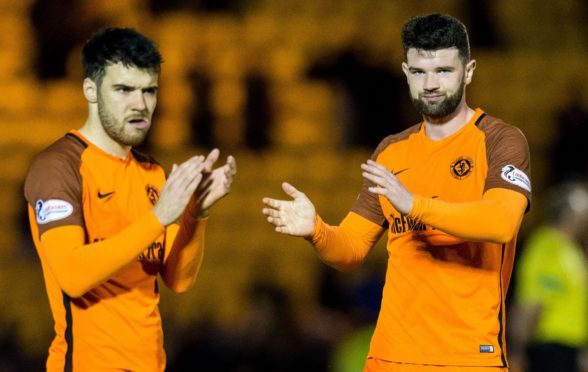 The Dundee United post-mortem can begin after they inflicted yet more pain on their long-suffering supporters.
Let's call this season that has just ended exactly what it was – an utter failure.
It has been an endurance test rather than an enjoyable adventure, with some farcical results along the way.
You can take your pick from the 6-1 thrashing at Falkirk, 1-1 draw up at Brechin, maybe the 3-0 home loss to Morton or the 3-2 beating from Queen of the South at Tannadice. There were also the crucial on-the-road defeats to eventual champions St Mirren.
How about the 3-0 thumping from the Doonhamers in Dumfries when second spot was still up for grabs or Dumbarton's 3-2 home victory? There was even the calamitous play-off first leg loss to Livingston last Monday and, hell, let's even throw in the Tannadice defeat to Northern Irish side Crusaders in the Irn-Bru Cup for good measure.
Some of those scorelines were the worst against those clubs for over 60 years. It was record-breaking stuff and not in a good way.
Indeed, it has been embarrassing a lot of the time and anyone at Tannadice who thinks otherwise should pack their bag and head for the exit.
No team has a divine right to play Premiership football. It has to be earned every week on the pitch.
The United players were simply not good enough and did not play well enough to deserve a return to the top division. They finished only third, remember, just as they did the season before that.
Qualifying for the play-offs should not be considered acceptable. It is too much of a long shot to hope to get up that way, even though some will wish Livi well in the final.
Realistically, winning the league should be the only goal for the Tangerines in what will be their third year down.
Failure costs more than money and there will likely be a shrinkage in the support for the 2018-19 campaign. My guess is that at least 1,000 one-time season ticket holders will call it a day altogether or pay at the gate a game at a time.
The doom and gloom will be tempered slightly when the expected takeover goes through but the club should not underestimate just how scunnered a lot of their supporters have become.
There should be no complacency that the faithful will still be there in numbers for them, as they have been since relegation.
To get people back onside, United must have the look of potential champions about them when the action gets under way again. There can be no talk of needing time to gel or gain fitness.
They have to recruit exceptionally well over the summer and it has to be quality rather than quantity. Paul Sturrock, with his knowledge of the English game, will be a crucial figure.
There must be an end to players getting hired on big salaries but contributing little or nothing for whatever reason. They need to have an investment in achieving promotion and not be content in the knowledge that whatever happens they will be able to move on at the end of their short-term deals or loan spells, leaving others to sort out the mess.
Manager Csaba Laszlo looks certain to stay even under the new owners but he must up his own game. Too many of his decisions – selections, tactics and substitutions – have left supporters (and perhaps even some players) baffled and frustrated.
He needs to realise that the title is the only acceptable outcome next season if he is to remain in post.
Off the pitch, it is now time for the fans to speak with one voice and I would suggest that should be done via the growing Dundee United Supporters' Foundation that now has over 500 members and around £50,000 in the bank.
The DUSF have said they want to work with the new owners and that should be achieved through a genuine partnership between supporters and directors. That could give the whole club a new lease of life.
Chairman Mike Martin has done a decent enough job since replacing Stephen Thompson, although some will question whether he is right to stand by Laszlo.
He seems to have come to the conclusion that chopping and changing managers has contributed to the club's woes. He has a point but what that means is he has 100% convinced himself and the board that they have a championship-winning coach in the dugout. He will be judged on that call if, as expected, he stays in the chair post-takeover.
Martin talked well when he first took over but he would be advised to make a fresh attempt at reaching out to the fans to reassure them about the future, via as wide a media as possible and as soon as possible rather than a short statement. Time is of the essence and he should consider doing so even before the new investors come in.
Everyone at Tannadice has to realise that the onus is on them to convince the supporters that they have the plan, personnel and know-how to end their stay in the Championship.
The fans have done enough and been through enough to deserve much, much better than what they have been forced to watch.
They have had enough of failure.