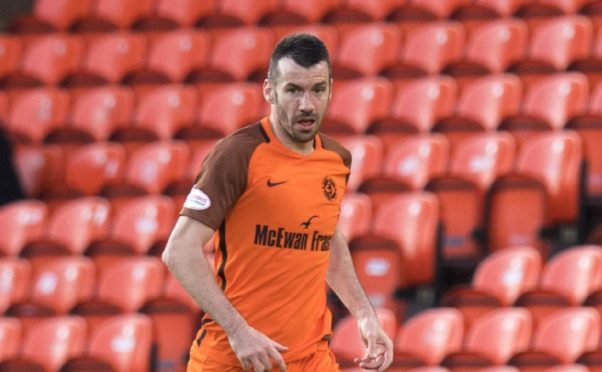 Paul Quinn has told Dundee United fans to focus more on the present than their glorious past.
Quinn feels some of the Tannadice faithful are living in the past after two failed campaigns to win promotion from the Championship has left club crying out for a return to the top-flight of Scottish football.
The former Aberdeen, Motherwell and Cardiff City defender left the Tangerines at the end of the season and the 32-year-old believes their supporters must accept they have no divine right to belong in the Premiership just because they were once a force to be reckoned with in Scotland.
Quinn said : "I think there is a bit of that.
"You have the fans who've watched them for so many years and they have undoubtedly seen a different calibre of player.
"The current players then try and earn that respect from the fans and the people who've seen such great times.
"Tannadice is a great place when you're on top and there was a period of time when we were on top last season and blowing teams away which meant the fans were excellent, but it's not always like that.
"I think of Hearts, Hibs and Rangers and their fans when they were in the Championship.
"They always talked about the present. Rangers fans never talked about when they were in the Uefa Cup final so many years ago.
"I think after that damaging period when Rangers got demoted back in 2012, they thought to themselves we need to go through this together and win promotion from the Third Division right through to the Premiership.
"Then, when they didn't come up through the play-offs that year when they lost to Motherwell, there was a realisation that right we need to go again and build things and structure it again.
"I think now United fans will probably get it. They'll think we now just have to get behind our Championship team and back them. That's what real supporters do.
"To be honest, it can be a tricky environment with that kind of expectation.
"We seen some players in other times of the season handle it and others not handle it. Personally, I liked it.
You have to find a balance of pressure you can handle.
"The players who play for Dundee United have to accept that the fans demand that bit extra. On the other side, there's no divine right to go out and beat anybody."#
Quinn admits life was never dull at Tannadice in the past year where former manager Ray McKinnon was replaced by Csaba Laszlo, while ex-chairman Stephen Thompson made way for new supremo Mike Martin.
He added: "We had a change of manager to contend with as well as chairman, and during all that we were meant to be focusing on trying to win a league.
"If you look at the simple teams who were round about us – St Mirren, Dunfermline and Livingston – it was the complete opposite of us.
"They had a solidarity and a stable structure. They had a full plan – a plan for the club – and an organisation which seemed to work for then.
"I think when Dundee United get that they will be back to the size of club we all know they should be.
"I think there's a lot of people still hurting from where they are and where they believe they should be.
"But if you look at football in general – and the teams who've dropped out the top division in the past 10 years and even up here – I think sometimes you need to realise it's the present and not the past."