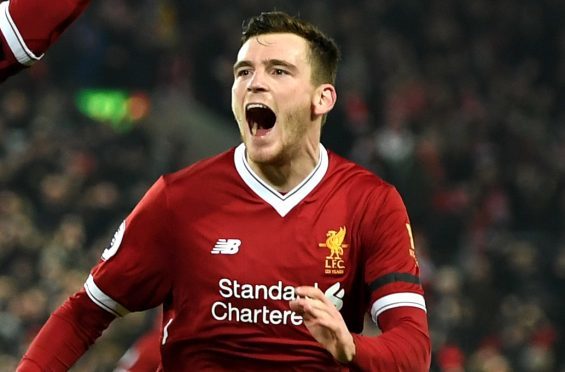 When Andy Robertson lines up for Liverpool against Real Madrid in the Champions League final there will be a very special set of "fans" cheering him on from back in Scotland.
It will be his former Queen's Park teammates who will be bursting with pride as Robertson walks out in Kiev, Ukraine on Saturday night.
Robertson, who went on to star for Dundee United, graced senior football for the first time on July 28, 2012, when the Spiders travelled to Shielfield to face Berwick Rangers in a Challenge Cup first round tie.
His skipper that day, Tony Quinn, remembers protecting the debutant 18-year-old in a penalty shoot-out in front of just 372 fans.
It was 2-2 after extra-time, with Queen's Park goalkeeper Neil Parry called up for spotkick duties before Robertson was.
Quinn reckons that Liverpool captain Jordan Henderson will not need to take the evasive action he took if it comes to that on Saturday.
He said: "I missed mine as did Michael Keenan and Jamie Longworth but thankfully Berwick were as bad.
"It became sudden-death and as Andrew was just a kid we were not looking to get him to take one. Big Parry grabbed the ball, took the next penalty and smashed it off the underside of the bar. We won 3-2.
"It would not have been right to put Andrew in the position of taking one until we had no option as you are never sure how a youngster will react.
"Based on how his career has gone since I am sure that he would have scored it."
Despite not being let loose with a penalty, Robertson had done enough to earn the respect of his teammates, with Quinn saying: "We had good left-backs before with Barry Douglas and Darryl Meggatt so we had been wondering who would fill that position.
"I remember when he joined for pre-season training. I thought that he was a bit lightweight but after a couple of games I was thinking: 'This boy can play'."
Play he certainly could and after just one season Robertson moved to Tannadice.
A year later he headed to Hull City where he spent three years before clinching his move to Anfield last summer but he has never forgotten his black and white hooped colleagues despite their lives going in very different directions.
One of Robertson's colleagues from that day played just one more senior game before work commitments took over and another, who had been tipped for stardom before him, has been lost to the game.
Quinn said: "Andrew's career has gone in a spectacularly different direction to everyone else's but he still keeps in contact with the boys from that team. None of us have come close to a Champions League final but we are delighted that Andrew has."
Where are they now?
Robertson's teammates from  six years ago were:
Neil Parry – helped Alloa get promoted to the Championship earlier this month.
Adam Monaghan – played once more before leaving as work commitments as a postman clashed.
Peter Bradley – Now plays for Rossvale juniors.
Richard Little – been at Arbroath since 2013.
Michael Keenan – returned to junior ranks with Irvine Meadow in 2014.
Giuseppe Capuano – now a school teacher.
Owen Ronald – left Hampden prematurely and now with Linlithgow Rose.
Alan Urquhart – tipped for greatness but left to join Kirkintilloch Rob Roy and no longer in the game.
Anthony Quinn – Spiders stalwart who retired in 2016 after 15 years.
Jamie Longworth – lost seven play-offs in a row with Queen's, Stranraer and Alloa before securing promotion with Stenhousemuir earlier this month.
Substitutes:
Lawrence Shankland – moved to Aberdeen at same time as Robertson went to Tannadice. Never broke through but just won League 1 with Ayr
Paul Gallacher – Captain of junior side Pollok.
Blair Lochhead (unused) – now works as personal trainer.
Richard Sinclair (unused) – club legend who recently served on the club's committee.
Sean Burns (unused) – only one still at Queen's Park but is set to move to Brechin.