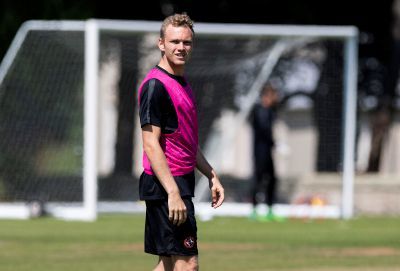 Dundee United fans will not be left spellbound by the dazzling tricks of midfielder Christoph Rabitsch.
That is the admission of the man himself as the newly-signed Austrian midfielder prepares for his first runout for the Tangerines tonight.
Rabitsch and the rest of United's summer recruits will be hoping to get some game time in the Tannadice club's first pre-season friendly against Brechin at Glebe Park this evening.
The former Wolfsberger player has put himself firmly in the no-nonsense category rather than claim to be a flair player and is happy to let others do the fancy stuff while he holds firm in the anchor role.
Rabitsch explained: "I am a deep-sitting midfielder.
"I like to defend and when I have the ball I play it easy and simple.
"I can also read the game really well.
"Maybe I am not the best striker of the ball but I can get goals.
"I fight for the team. That is 100% my game.
"I don't do magic things.
"When we lose the ball, though, I and good at getting it back."
The 22-year-old, who has agreed a two-year deal after switching from the Austrian Bundesliga, appears to be loving life in Scotland.
He said: "Everything is perfect – even the beach!
"As part of training we have had running sessions on the sand and it was beautiful.
"In Austria there is no sea!
"It has been tough but also fun. I have really enjoyed it.
"I have heard that Dundee United is a traditional club and that if we win some games and get on a good run they may might get 10,000 people at our games. I hope so.
"We had maximum attendances of 5,000 people in Wolfberger and you had to go to Vienna to get 20,000."
Rabitsch is friendly with fellow Austrian David Witteveen, who had a spell at Dundee in 2010, and has played against some top-class opponents in his time.
He didn't hesitate when asked who was the hardest rival of all, the answer being Liverpool's new £52 million signing Naby Keita.
"I played against Keita when he was still at RB Salzburg," said Rabitsch.
"Well, I played against him but I didn't see the ball!
"He is the best I have ever faced.
"It was great experience but if this guy gets the ball against you then you have no chance because he is so quick. I am glad he is playing in England not Scotland!"
Brechin are likely to test the Tangerines tonight if their 1-1 draw against Dundee on Friday is anything to go by but the priority for United boss Csaba Laszlo will not be the result but rather seeing his players improve their fitness.