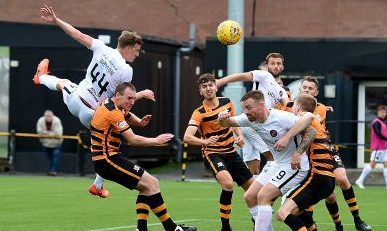 Dundee United goalscorer Paul Watson has refused to blame Alloa's slimmed-down pitch for their poor performance.
The Tangerines arrived at the Indodrill Stadium, aka Recreation Park, to play the Wasps on Saturday only to discover that the artificial pitch had been narrowed by around five yards on each side.
It was a significant reduction in area that impacted on the 1-1 draw by squeezing the play and making life difficult for the wide players.
However, Watson revealed that United had prepared for that very scenario and they could not use it as an excuse for what was a sloppy and sluggish display.
Watson, who had hoped his headed goal on 71 minutes would have been enough to secure the three points, said: "We spoke about it before the game and trained on a smaller pitch in order to prepare for what Alloa might do.
"To be clear, that's no excuse and we can't use it as such.
"We really have to be winning games like this if we want to be up there at the end of the season.
"This is a difficult place to come to and the pitch doesn't help but there can be no excuses.
"We should have performed better than we did."