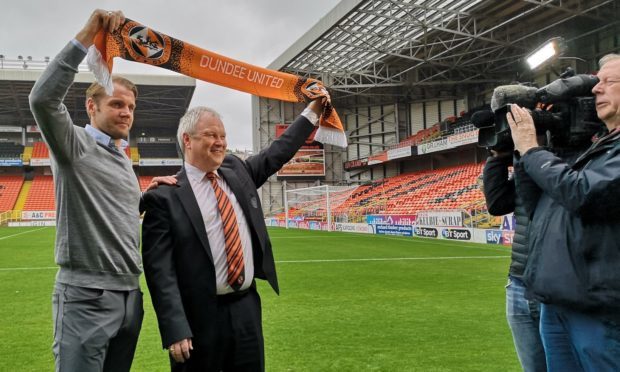 Robbie Neilson has signalled the intensity he will demand of himself and his players on his first day as Dundee United boss.
The former Tannadice defender reported for duties at 7am and held meetings ahead of the morning training session at St Andrews.
Neilson, who will be formally unveiled as boss at a press conference this afternoon, told the club website: "I am excited to be here. This is a fantastic football club — I know that from my time here as a player.
"It has the right infrastructure. The facilities here are second to none and there is a really good first team squad and academy system, and staff.
"Everything is right –  with one exception – we are not where the club wants to be, in the top flight, and that is an obvious goal for me."
Neilson is understood to have turned down other job offers since being released from MK Dons in January and explained why the Dundee United role appealed.
"It has to be the right fit for me," he said. "There were a couple of jobs that I didn't feel were right and there were a couple I was keeping an eye on as ones I would relish.
"This was the one I was keen on. As I said, everything is geared towards success and it is a case of delivering it. I have watched United play a few times this season, and I believe there is a strong squad here that I can work with and improve results."
---
Look out for live coverage of Robbie Neilson's unveiling on www.thecourier.co.uk from 4pm
---
Neilson's reign begins at the weekend with a trip to Partick Thistle before his first home match on October 20 versus Inverness Caley Thistle.
And while he is clear that promotion is his target, Neilson is aware United will have to work hard to have any chance of that.
"Winning on Saturday is the first target. Then after that, we will come in next week and focus on the next game. It would be wrong to look too far ahead and what we will need to win this league is consistency," he said.
"It is a tough league, and no one has the divine right to go up, but what I have seen in games I have seen good points and some stuff that gives me an opportunity to work on things. We have to respect the other clubs in the league, but we have to seize the opportunity to improve."