Robbie Neilson insists his patience has finally paid off and he is utterly convinced the Dundee United manager's job is the right one for him.
The 38-year-old was formally unveiled at Tannadice yesterday as the successor to Csaba Laszlo.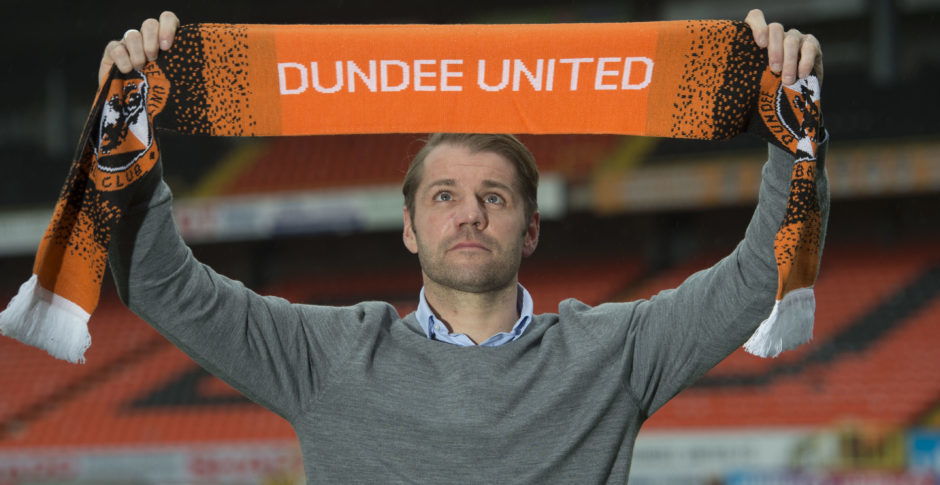 Neilson had been out of work since parting company with MK Dons back in January.
The former defender, who had a spell as a player with the Tangerines in 2011-2012, had offers from elsewhere in the months after leaving the English club.
However, none ticked all the boxes for him – until now.
Neilson said: "Towards the middle of last week, I had some contact from the chairman (Mike Martin). I spoke to him, met him, and had a really good feeling about it and thankfully he had a good feeling about me.
"I met the board again over the weekend and they made a final decision on it. It gives you an opportunity to get in this week, to build for the game on Saturday.
"From the outside looking in, from what I'd seen and what I know, it's a big football club, with a great fanbase.
"They've got really good training facilities which is very important to me and a really good squad.
"Those were four aspects that I thought ticked the boxes. The other ones were, 'What is the board like? What is the chairman like?' Having met them, it ticked the other boxes as well.
"The only box that isn't really ticked is that it's in the Championship. That's the box everyone wants to tick. We've got to make sure we do that.
"I have waited for the right job to come along and I really feel – in fact I know – this is the right one.
"When you have had a hit as a coach you have to make sure you get it right the next time.
"You get two strikes as a coach, when you get onto three you're in trouble and you're out.
"The longer you are out the game, obviously, the less boxes you need to have ticked.
"But thankfully I was in a position where I was able to wait until the right one came along –
and I think it now has."
Neilson added: "I had a few offers when I first came out but I am really glad I didn't go straight back in.
"If I'm honest, I wasn't ready to go straight back in because I needed time to reflect on what had happened (at MK Dons).
"I thought something would come up over the summer but it didn't, so the season starts and you are waiting on the right thing to come up."
Neilson admitted he is keen to link up once again with former Scotland striker Stevie Crawford who was his assistant when he was head coach at Hearts and MK Dons.
The 44-year-old is currently a coach at Dunfermline but Neilson is hopeful an agreement could be reached between the respective parties.
He said: "There's been a lot of talk about Stevie (Crawford). I'd like to try and get him in and it's something we'd like to do.
"So I need to have that conversation with Stevie, the chairman and Dunfermline.
"We're good friends but as I said to the chairman, he's a fantastic coach.
"Being a former defender, I know that side of the game 100 per cent.
"I know the minute details. I can put sessions on for strikers but it's important for them to have a guy who is a real striker coach and who knows the details so if they ask a question he can nail it.
"He's been there and got the T-shirt.
"Hopefully we can do something. It might be difficult as he's got a contract with Dunfermline but I'd like to work with him again."
Before joining MK Dons, Neilson had a successful spell as head coach of Hearts, winning promotion from the Championship.
He is looking to achieve the same feat at Tannadice but is fully aware of just how tough a task it will be with United currently eight points behind league leaders Ayr.
Neilson added: "I spoke to the players this morning about the objective. There's no point denying it, the objective for ourselves, Ross County, Inverness, Dunfermline, there's probably about eight teams out of the 10 whose aim is to get promoted.
"The only way you do that is by winning on Saturday. There's no point looking ahead to May.
"We need to look at the game on Saturday, 'How are we going to be in the best condition for Partick away?' We need to make sure we do that and slowly build it but still start well on Saturday."