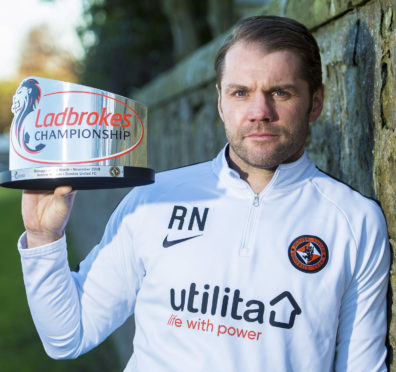 Nicky Clark could be out action for several weeks, Dundee United manager Robbie Neilson has revealed.
The striker has been suffering from an ankle and shin problem for a while, which "flared up" after his appearance against Alloa a fortnight ago.
The former Dunfermline and Rangers man was sidelined for the Ayr United game on Friday night and Neilson does not expect him to be back at Morton on Saturday.
"He's got a problem with his ankle and shin," he reported. "He's had it quite a while now and we've been trying to manage it.
"He's been involved sporadically and then it kind of flared up a bit after 90 minutes recently. We just need to let it settle down.
"We're taking it day to day and week to week to try and get him fit. He's a big, big player for us. He's got great quality and great experience.
"I'd be surprised if he's available for Saturday. It's more likely to be a few weeks if I'm honest.
"He's a big miss but it gives somebody else a chance and Craig Curran has done well. I actually thought he gave us a bit of life and energy after half-time against Ayr."
---
---
Neilson, who received the Ladbrokes Championship manager of the month award, with Fraser Aird getting the player award, has drawn a line under the 5-0 defeat to Ayr after a post-training video debrief yesterday.
Now the challenge is to make sure the form that earned the two of them recognition returns at Cappielow.
"You have to look at the negatives and obviously it was a disappointing performance and result," he said.
"But you have to take it in context. We've had a very good period since I came in. This is a blip.
"We can do all the video work we want, we can talk all we want, but ultimately it will be what we do at Cappielow on Saturday that matters.
"That's the sole focus for us now."
Neilson added: "You have to be prepared to lose. It was the manner of how we lost that was the most disappointing thing. We didn't perform anywhere near the level we should have and the scoreline reflected that.
"It has hurt us a bit in terms of the rapport and togetherness we had built with the fans. Hopefully we can stick together and put it down as a blip.
"The only way we'll do that it is by winning on Saturday.
"Things were said after the game and today but I wanted today to be the final day of it. There's no point sweeping it under the rug. It's important to be honest with each other.
"To win a league you probably need to win three games out of four. It's what happens when you lose that game – does it affect you for the next one or do you move on and make sure you win it?
"The points total from the last seven games is one that could take us to a title and that's including the Ayr game. If we can continue like that and not let the defeats knock us out of our stride then we've got a real chance."
The heavy loss hasn't changed Neilson's mind regarding the size of the task he took on when replacing Csaba Laszlo, nor what needs to be done in the January transfer window.
He said: "I knew when I came in here that this was a fantastic club and a great opportunity but there would be a look of work to put into it – a lot of hard work.
"We had a very good period but there will be bumps in the road. The game on Friday night was a boulder in the road but getting round it is the key.
"Everybody will be looking to bring in reinforcements in January.
"I don't want it to be wholesale changes. There is a lot to be said for continuity and building relationships in the team.
"January is a difficult window. A couple could bolster us but it has to be the right ones and in the right positions. We're working on that at the moment."