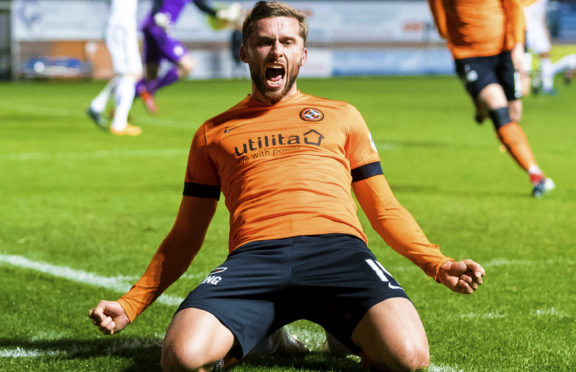 It was the worst loss since his school days but Pavol Safranko doesn't want to waste any more time dwelling on that defeat.
The Dundee United striker and his traumatised teammates have been challenged by manager Robbie Neilson to either "dig it out" against Morton today or risk their season heading on a downward spiral.
The Tangerines were left battered and bruised by their 5-0 beating from Championship leaders Ayr United at home eight days ago.
They have spent the time since that Friday night horror show recovering and preparing to bounce back against the Greenock men this afternoon.
If they can leave Cappielow with three points then all the talk will be about how they showed strength of character and the Ayr debacle might begin to loo like it was an isolated incident.
If they crumble again then they will appear seriously wounded by that Tannadice thrashing and the season will look like an assault course to be endured rather than an exciting title race to relish.
Safranko, who before that match had been enjoying an excellent time under Neilson's management, admitted that the pain of eight days ago was considerable.
However, he knows it is now all about what happens against Morton this afternoon.
The Slovakian frontman said: "There was the 5-1 loss here to Ross County and I suffered a 4-0 in Denmark (against FC Copenhagen in July) but I have experienced nothing like that as a senior player.
"Maybe when I was 15 but not as an adult professional.
"I tried to be at my best on Friday night but I was not.
"It wasn't a good performance but we can learn from it. I am sure we will.
"We have had to recover quickly because we must look forward to our next game.
"My answer to this disappointment has been to work hard and be ready for Morton.
"We are just human so it is difficult.
"We have all spoken with the coach and he has told us that we have to just focus now on this game.
"He has given us good tactics for every game and I am sure that will be the case again this time.
"This match is now more important than the one we lost against Ayr.
"Sometimes you have games like that one.
"What I can say is that 5-0 was way too much.
"Now we now have to look to win a series of matches and then we can forget the last one."
Safranko, who is the Tangerines' top scorer with seven goals this season, believes there is still bags of time for United to get their promotion bid back on track.
He said: "There is no choice but to be positive.
"You can't be totally negative even when you have such a big disappointment as we did last Friday.
"We can't find excuses for bad results and we have to bounce back immediately.
"There are still 21 games left of the regular season so we have time to recover."