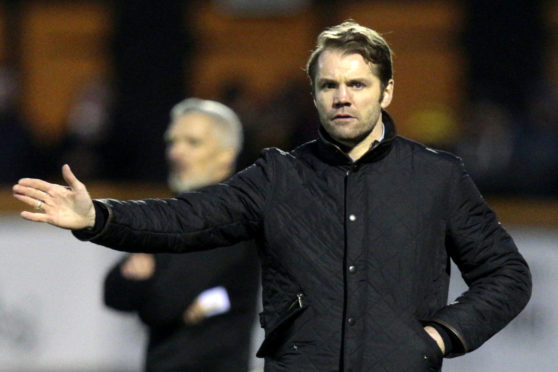 Dundee United boss Robbie Neilson has candidly confessed that certain players at the club are not up to the task of winning promotion which is why he cannot wait for the January window to open to bring in quality reinforcements and ditch the deadwood.
The Tannadice boss was speaking in the wake of Saturday's desperately-disappointing defeat at the home of part-time Alloa with the result leaving the Tangerines seven points adrift of league leaders Ross County.
United threw away a lead to lose 2-1 against Jim Goodwin's team with Neilson not pulling his punches over what was an "unacceptable" result and performance.
He said: "It was not good enough and we know that.
"If we have any aspirations of the Premiership, then that's not good enough to get us there.
"I knew when I came in it was about trying to get to the January window.
"There are players in the dressing-room who aren't good enough and it is my job to change it.
"There are some in there who are good enough to take us where we need to get to and there are ones who aren't.
"So it is now a case of pushing forward as a club as I think we can all agree whether it be staff, players, fans, board members that today was nowhere near the standard we need to get to if we want to get back into the top flight."
When asked how many players he needed, Neilson replied: "I'll keep that to myself but it will be more than one, that's for sure.
"We need to make a lot of changes here. I knew that before I took over.
"We managed to get a bit of a lift when I came in and we produced some results.
"But my objective was always to get to the January window as close as we could to the top of the league.
"Now we are at the January window, it is a case of getting better quality in and giving us the best chance to get out of this league because it is vitally important that we get into the top flight.
"But as today has shown, the squad we have just now are not going to get us to the top flight.
"We took a really good support down here – fantastic for the Championship but today is not acceptable.
"I could have stood in there for two hours standing shouting, ranting and raving at them but it would have been a waste of time because a lot of them won't be here."