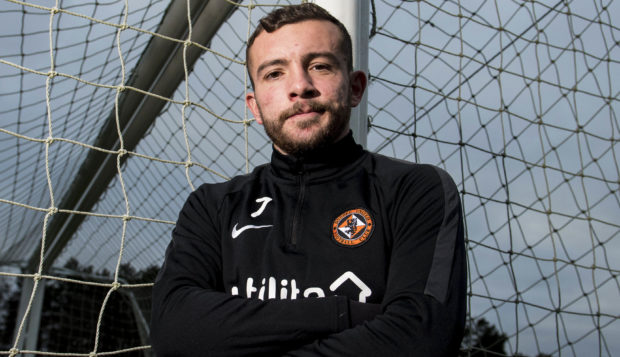 Dundee United's Paul McMullan hopes to see manager Robbie Neilson in a good mood after they face Partick Thistle at home today.
McMullan and his colleagues were on the end of an angry verbal blast from Neilson after the Tangerines lost 2-1 away to Alloa last weekend.
Neilson is a soft-spoken person who chooses his words extremely carefully so for him to have a real go showed how much that defeat hurt him.
United's players had a no-holds-barred meeting at their St Andrews training base on Hogmanay to discuss the defeat and McMullan is hoping for a happier time after they are first-footed by the Jags this afternoon.
Asked about Neilson's post-match reaction, McMullan said: "He did wear his heart on his sleeve.
"You know when he is not happy and if that's the case he is quite good at getting that across.
"He did let us know he wasn't happy on Saturday but hopefully he won't be that angry this time.
"We will find out when the game starts how we are going to respond but hopefully it's in a positive way.
"Me and the rest of the boys really want to get the season back on track by taking three points to help us get back where we want to be – at the top of the table.
"We have had a wee slump in our form and the same thing happened to us last year at this time and it derailed us
"Hopefully, with it being our start to the new year we can kick off with a win and kick on through January.
"We have just had one of those spells but hopefully we can turn it around. With the quality we have here, I don't doubt that we can do that.
"There is pressure on us but I don't think it is weighing us down.
"I think you know when you sign for United that they want to win the Championship.
"We don't want to be in this division. We are a really big club and should be in the Premiership.
"Everybody has the same goal here and we are all under no illusions that we should be going for the title.
"That's why you sign. You sign to get promoted and that's something the lads have embraced."
As for the get-together before the bells, McMullan said:
"We came in on Monday and spoke about it.
"We wanted to put it behind us and push together towards beating Partick.
"The lads just want to get that game out of the system and take three points against Thistle.
"When you get these setbacks, thinking too much about them can affect the rest of your season.
"That's not what we want to happen.
"At the meeting, the gaffer opened the floor to everybody and it was up to them if they wanted to speak or not.
"So we did that and after Monday it was done."
If ever there was proof that life is tough in the Championship it was that result at Recreation Park.
McMullan added: "There are no easy games and if you are not at your best you can get turned over.
"We saw that on Saturday.
"I didn't think we played too badly but you switch off for five minutes and you are 2-1 down.
"It is difficult to go and score goals against teams that are set up well and in this division every side is set up well.
"They have their game plan and it's up to you to break them down."
It was suggested that Partick, who sit a place below Alloa in second-bottom spot, could throw down another banana skin.
McMullan replied: "Hopefully not but you do have to treat every team with respect.
"I have been surprised (to see Thistle down there) because they have good players and manager.
"It is just a case of hoping that their turn of form does not happen against us but I do think they will get better."
It turns out there is a familial link between McMullan and Jags boss Gary Caldwell, with the United man explaining: "We share an uncle John, believe it or not.
"It is a strange one.
"Gary's uncle is married to my dad's sister, if that makes sense.
"I know Gary is itching to turn it around at Thistle but, as I've said, I hope it doesn't start this weekend.
"I was a bit young when he was at Celtic so our paths didn't cross but he was a good pro and I'm not surprised that he is in management."