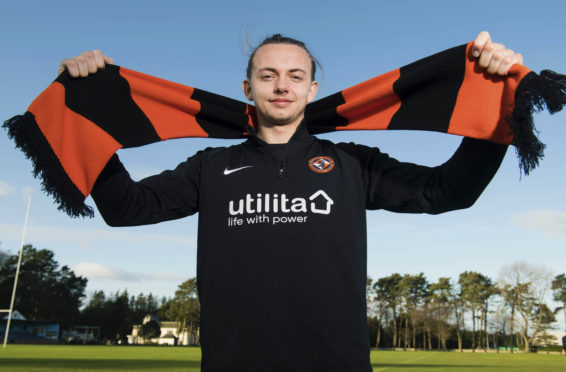 Aidan Nesbitt is delighted to be reunited with Robbie Neilson after admitting he felt "gutted" when the manager left MK Dons.
Dundee United's new attacking midfielder was handed a rapid-fire debut by Neilson on Saturday, coming on at half-time against Partick Thistle to win the penalty that Fraser Fyvie scored to earn a 1-1 draw.
It was an encouraging start and Nesbitt hopes to have a long and successful spell at Tannadice after his working relationship with Neilson at the Stadium MK was cut short a year ago.
Neilson was replaced by Dan Micciche, who himself made way just three months later for first caretaker coach Keith Millen then current boss Paul Tisdale.
At the time of the managerial turmoil, Nesbitt also found himself sidelined by injury and life for him at the EFL League Two club was never the same thereafter.
It does not come as a surprise, therefore, to find the former Celtic youngster full of enthusiasm at having the chance to reboot his career under Neilson.
Nesbitt said: "I worked with the gaffer before and really enjoyed it.
"I spoke to him when I left MK and I was looking forward to working with him again.
"I enjoyed playing under him at MK.
"I was gutted when he left and I also got injured right before that.
"I was out for a couple of months and that really set me back.
"So it was a double blow for me.
"MK is a good club – it's run well and the stadium is fantastic.
"For the first six months I was really enjoying it. I was in the team and playing well.
"After that, it was so stop-start for me.
"I was injured and had to cope with a new gaffer coming in. It was hard for me to get going again.
"And when I eventually got back from injury I didn't really feel part of it the way I had previously.
"I was working away and thinking I was doing well but never getting a sniff.
"It was a tough time for me but it's in the past. Now I'm looking forward to working with him again at United."
Nesbitt was asked to highlight what he appreciated most about Neilson's managerial approach from their first spell together.
He replied: "He drives standards at you and makes you enjoy coming in and working hard.
"Every day is tough and there is no slacking.
"You don't get any chance to slack off and I enjoy working in that environment."
MK Dons is known as a club that – perhaps because of its newness (only formed in 2004) – doesn't perhaps have as intense and fervent a fanbase as other clubs of a similar size and stature.
Nesbitt agreed that he will maybe find himself under more pressure to perform at United than he did at MK because of the need to get promoted back to the Premiership.
He added: "There could be a slight contrast to what it is like up here.
"MK is a new club and it is certainly growing. I think, behind the scenes, they do so much for the community. It has that feel about it.
"Maybe the expectation level isn't the same as at a club like Dundee United, where we are in the Championship but every supporter wants and expects us to get to the Premiership.
"There is a different level of expectation.
"You want that, though. You don't want football to be mediocre. Everybody has their own level but you want to push that and United should be the in top league.
"We all know that and we, the players, are the ones who will be held accountable for doing that.
"It is pressure and you either sink or swim, don't you?
"You either get nervous about pressure or it can lead you on to better things.
"There are high expectations here but I don't think you should be playing for United if you can't deal with that."
Nesbitt admits to still be a bit short of match sharpness but he is a contender for his first start in Saturday's home match against Dunfermline.
He said: "I have really enjoyed my first week.
"Obviously, I would have preferred to have picked up three points on Saturday but it has been a good start for me.
"I thought I might have played a part in the Partick game having been named as a sub but I was absolutely delighted to get on at half-time.
"I felt all right and had opportunities.
"I just wish they had fallen to me after a good few games but I kind of rushed them a bit.
"Overall, I thought I did all right.
"I also won the penalty. People were saying it was a soft award but I didn't think that at all.
"I was just sharper than the defender and got across him. It was noticeable that none of their players appealed against it. There were no questions asked."