Mark Ogren insists he expects to see a return on his investment in Dundee United – but only if the club are successful and back playing their football in the Premiership.
The American businessman met the media at Tannadice yesterday for the first time since buying the club along with new sporting director Tony Asghar and managing director Mal Brannigan.
The Minnesota millionaire admits his first priority is to help United return to the top flight with Asghar already working closely with manager Robbie Neilson identifying transfer targets for this window and the promotion push.
Longer term, Ogren not only wants to see the club back where he believes it belongs but he is prepared to spend money to ensure there will be stability and long-term success.
He said: "When we purchased the club, Robbie Neilson was already here but we felt he is the right man for the position.
"We brought Tony Asghar in as the sporting director. Tony has connections not only in European football but world football.
"He knows people and can bring people in. He will work closely with Robbie to identify the key players we need in order to get promoted.
"We brought Mal Brannigan in and he is going to be the managing director so he will run the business side. So essentially he will be our CEO.
"I am only going to get over here every couple of months maybe so we need the right people in the right places on a daily basis.
"We need boots on the ground here to make sure we are doing the right things on a regular basis."
Ogren added: "We expect to make money. But we are not going to make money with this size club in the Championship.
"So we need to spend money in order to get promoted. Equally important, or more important, we need to stay up in the Premiership, we need sustained success here in the long term in order to be profitable and maintain that success.
"We have a plan. It starts with putting the right people in the right places that have had success in their positions.
"We absolutely feel we have the right people. Then we need to make an investment.
"But in order to make money we need to get into the Premiership – and if we can get there and stay there, we feel we can be successful."
When asked if future player sales would be part of the plan, Ogren said: "It's part of the model. In our academy here we are going to have a big focus on that. That is definitely part of the model."
And Ogren admitted he is at United for the long haul: "That's the plan. Yes."
Some fans at both clubs in the city have voiced fears recently that the fact United and Dundee are now owned by Americans, it is only a matter of time before the two teams merge.
However, while understanding the concerns, Ogren strongly insisted that would not be happening while he was in charge at Tannadice.
He said: "I've gotten that question (about a merger) more than any other question at all. Which is fine.
"I understand the concern. In the fans' forum last night someone said, 'We are passionate. Just so you know, it's not like our favourite pub is going out of business, or our favourite grocery store.
'You can go to another pub or another grocery story. This is our lifestyle. We have grown up with Dundee United.
'This is very important to us. So if we ask some specific questions about the debt you are going to have or any other specific, personal questions, it is not that we are trying to be nosey, it is because we are interested – we want to make sure the team remains viable'.
"I get that. I like that."
And just so there was no absence of doubt, Ogren insisted a merger would never happen on his watch: "It will not."
Ogren though did admit that he would probably try to meet with Dundee's owners Tim Keyes and John Nelms in the future but it will definitely not be to discuss a certain topic.
He added: "I have had no contact with the people at Dundee.
"Do I plan to speak to them? I'd be open to meeting them and probably will some time.
"But it won't be to have any discussions on a merger at all, we are not interested in that.
"I also see the club's future as being at Tannadice, definitely.
"This is one of the assets we purchased, it's a great facility so we absolutely plan on staying here as our home."
Ogren though admitted he saw areas where there could be improvement at the ground when he was shown around again on Sunday after watching the team win at home 24 hours previously against Dunfermline.
He said: "Saturday was great. We spent a lot of time yesterday going around Tannadice and looking at the facilities a little closer.
"I had a longer tour and saw some things I didn't see the first time I was over. We saw some things we really like and some things we can improve on.
"We do not need to do major changes to Tannadice. But we will get some opportunities to do some stuff."
Ogren also revealed what initially attracted him to Scottish football and Dundee United in particular.
He said: "It didn't start off to be Scottish football specifically, it was European football.
"We have been involved with American sports teams before and we just like the model of European football.
"So we looked at different opportunities throughout Europe and actually kept coming back to Dundee United.
"It just felt right. It has a rich history but had fallen back from where they had been and where the expectation is for this club.
"So we just felt like we could come in, make a difference to get the team promoted and being successful."
Ogren also reiterated that he wants the club's fans to be a big part of that success.
When asked if he was aware of a disconnect between supporters and the club previously, he added: "I am not sure I know it all but I know enough to realise there is an issue.
"As I have said before, we appreciate the fan clubs and the fan base we have here.
"I would rather have negativity than no response at all. That means people care and I like that.
"We are not going to please all the people all the time but we had our meeting with the fans groups and I thought it went really well.
"We told them from a high level what our plan is and they seemed to be pleased with that but we also realise that they have been told a lot of things in the past.
"There are some things we can control and some we can't control.
"We are going to do what we can to put things in place here to give them success again."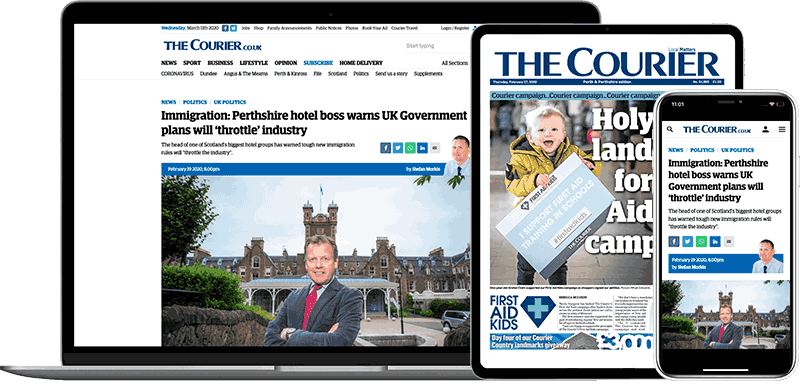 Help support quality local journalism … become a digital subscriber to The Courier
For as little as £5.99 a month you can access all of our content, including Premium articles.
Subscribe