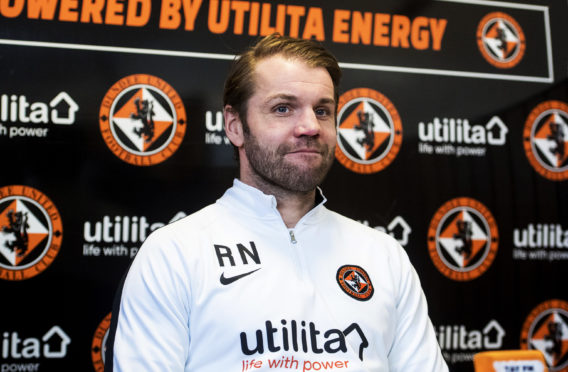 A Scottish Cup run wouldn't be a distraction for Championship title contenders Dundee United, according to Robbie Neilson.
It would be a reward for their supporters.
Neilson, whose team face a tricky away trip to Montrose tomorrow, doesn't see why the Tangerines can't be greedy and target promotion and a trip to Hampden.
"There's no getting away from the fact that the league is the priority," he said.
"But we see the Scottish Cup as a huge thing as well.
"We want to go as far as we can and go on a run. We want to give the fans some excitement back.
"They turn out in their thousands to support us and it's been a difficult period here over the past five or six years.
"So we want to do well in the league but also in the cup and try and to try and get to Hampden if we can because it's been a while since we've been there.
"I know if we get there we would take big, big numbers."
Neilson senses that the feelgood factor at Tannadice is rising now that the new owners have started to outline their vision for United on their first trip to Scotland since the takeover was announced.
"We've had a good chat with the supporters' liaison group," he said. "They were very positive.
"The chairman, Scott (Ogren), myself and Tony (Asghar) all spoke. They want positivity and this place has lacked that in the past four or five years.
"There's been one hit after another. Now this is a new chapter. It's a case if bringing that positivity back.
"We're under no illusions. There are a lot of steps to take.
"On Saturday we won 1-0 and you saw that enthusiasm and positivity. We need to keep adding to that and adding to that. There will be bumps in the road but we just need to keep pushing forward. It's a very exciting time to be here."
Montrose certainly won't be taken for granted this weekend.
"We've had them watched a couple of times," said Neilson.
"I've been in these situations before when you go and watch these teams in a league game but when they come and play a bigger team in the Scottish Cup they get an extra 10/15% in the tank.
"So we know it's going to be a very difficult game when we go there.
"They've got a little bit of experience in their team. Sean Dillon is there and he's just had his testimonial here so that adds a bit of flavour.
"But we want to go on a run in the cup so we are taking this game extremely seriously. We'll be putting out a full strength team and we'll be going there to win."
Meanwhile, Neilson reiterated that the new off-field management structure is one that he is comfortable with.
"I've done both sides of it," he said. "Working under a director of football and also going straight in and doing everything.
"One of the reasons I came here was when I spoke to the previous owner Mike Martin, and he explained the plans, this structure was very appealing to me.
"There were a lot of things about coming here – the size of the club, the fans, the training ground but also this structure that was going to come in.
"It makes your life a lot easier and allows you to focus on the things that are most important – ultimately that's the first team and winning on a Saturday.
"Tony's (Tony Asghar) role is to liaise between myself and the owner and he'll assist me as much as possible in his sporting director role.
"I'm really pleased with it.
"My job is to plan for Saturday. Tony's is to plan for the long-term and the future of the club. That helps me as I don't need to deal with that as much as if you were a manager who's doing everything.
"Ultimately, Saturday is the most important thing at a football club. If the team wins everyone is happy, there are more ticket sales, more corporate hospitality. It all comes in off the back of that.
"The head coach's role is to get the team winning on a Saturday and you need a focus to do that."