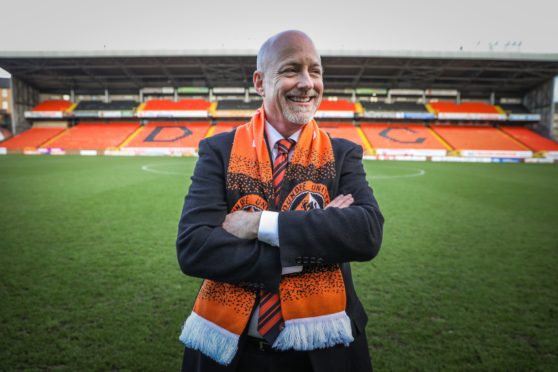 Dundee United's new American owner rode into town this week and it's fair to say he brought a feeling of optimism with him.
With a new professional structure now in place, supporters appear to have reasons to be cheerful.
With decent January signings and results in recent weeks going their way, United find themselves in a good position in the Championship title race.
The American talked about European football and in a few years' time the possibility of a Europa League place could be a realistic hope.
No other Scottish club with comparable history could have been bought at the price Mark Ogren has acquired United for, so he may well have done a very good deal.
As in all football though, there are no guarantees, but a good Scottish cup run and promotion this season would be a quick return for his dollars, and a huge indication that after recent years of strife, the Tannadice club were once again moving in the right direction.
Speaking of cup runs, Dundee FC could be doing with one to lift their gloom.
I'll be at Dens today as they face a dangerous Queen of the South side which has hauled itself back into the Championship race, and who field one of the most prolific strikers seen in the Scottish game in Stephen Dobbie, with 32 goals scored this season.
Staying in the Premiership has to be manager Jim McIntyre's priority, but with just one Scottish cup triumph in their history, a decent showing this season would bring a welcome ray of sunshine into the lives of Dundee fans.
Amid recent speculation, now quashed, of mergers and ground share, the rivalry between the two closest football neighbours in Britain is a daily topic in workplaces everywhere.
With the new regime in at United, there is once again a renewed vigour in the bragging rights debate as to which is the top club in the city.
That's the very essence of sporting rivalry, and the completion of new ownership at the club at the bottom of Tannadice Street may well give a boost to the ambitions of the club at the top, with a fresh sense of competition spurring each other to greater heights.
* The spygate affair in England made me guffaw.
Leeds United boss Marcelo Bielsa's admission that he sent spies to watch his opponents, Derby County's training sessions has caused howls of faux outrage from some in the game, who should be embarrassed at their ludicrous over reaction.
In a game where players and managers will happily accept dodgy penalties and decisions, and where we constantly hear that any contact entitles a player to go to ground and seek advantage, the dodgy moralising is laughable.
If a manager can't cope because his opponent has had a sneaky peek at his training ground tactics, he needs to look in the mirror and rediscover his sense of humour.
The old saying, 'No battle plan survives first contact with the enemy' comes to mind.
The best managers adapt on the day and during the game, whether or not James Bond has been hiding in their training ground bushes.