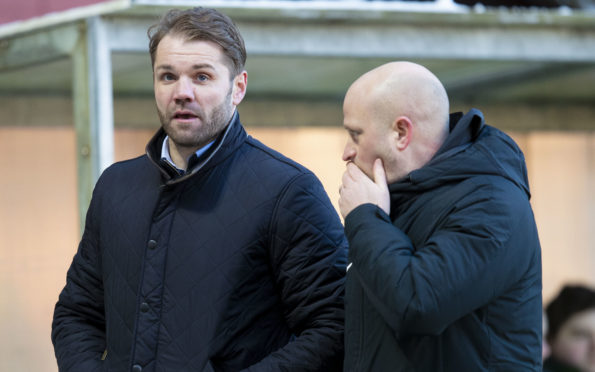 The instant impact made by Dundee United's new players will stand them in good stead for their cup clash with St Mirren.
That is the view of Tannadice assistant boss Gordon Forrest, who looked on in satisfaction as deadline day recruits Mark Reynolds, Mark Connolly, Calum Butcher, Peter Pawlett and Osman Sow all made promising debuts for the Tangerines in their 2-1 win over Morton in the Championship on Saturday.
The Buddies in Paisley in the fifth round of the William Hill Scottish Cup is a tougher test for them but Forrest is backing them to keep going after hitting the ground running.
Forrest said: "It is great to get some new faces in and it adds competition to the squad but there is also a good bit of experience that has come into the group.
"It was a good performance at the weekend, particularly in the first half. We dropped a little bit in the second but that was to be expected.
"It's nice to have a few new players to complement the guys we already have here.
"There is nothing better than a bit of competition for places, especially going into the final part of the season. It's important as well to make things fresh at times.
"Against Morton, it was about how well the guys fitted in and that they did so straight away," added Forrest.
"They didn't have much contact with the staff and the other players but right away you could see on the pitch they were right behind what we are trying to do as a club.
"There was a good energy about the guys and there was passion and a bit of leadership that came out on the pitch as well.
"It was so pleasing to see how they slid into that game but also they have been on the training pitch this week and it seems like they have been here a while.
"It can take time to bed in but we can't have that with 13 league games to go."
While going up remains United's goal for the season, they will still throw everything at the cup-tie as they test themselves against Premiership opposition.
Forrest added: "We are obviously reaching for promotion and it is very important to the club.
"However, the Scottish Cup, with the history it holds for this club in particular, is also important to us.
"We are treating this one as if it's a league game.
"It gives us a wee break from the pressures of the league but it is a massive match for us and one in which we feel we can go and put on a good performance.
"We're looking forward to it. That's where we want to be as a club and that's the challenge we have to meet.
"It will be good for our players to see a Premiership team face to face. We'll see what the outcome is but we believe in ourselves and it's a very important weekend for United."
While the players have settled in quickly, the same can also be said for Forrest, who was only appointed as boss Robbie Neilson's number two last month.
He said: "I was six years in the MLS with the Vancouver Whitecaps and I suppose in football six years is a long time to be at one club so it came to an end.
"I have come back to Scotland with my family. I did have a few opportunities in North America but also back here.
"Thankfully, Robbie came and asked me and it is an honour – a no-brainer – to come to a team like Dundee United, given the size of the club and the manager's vision.
"It is brilliant to be here.
"It is a different culture but I had a fantastic time at Vancouver.
"There were players from all over – Costa Ricans, Argentinians, Uruguayans, Venezuelans – so you are dealing with different types.
"Some people used to talk about it being a retirement type league but it's way past that. You have had stars like (Zlatan) Ibrahimovic, (Andrea) Pirlo, David Villa and Steven Gerrard – top players.
"As well as Gerrard at Galaxy, you do come across a lot of British players. There was Ashley Cole, Nigel Reo Coker and, of course, Kenny Miller and (former United frontman) Johnny Russell at Sporting Kansas City.
"Johnny has been on fire. He has settled really well and is making a difference in the league. He is representing Scotland fantastically well.
"We also had a young kid at Vancouver called Alfonso Davies, whom we sold to Bayern Munich for 22 million (US dollars).
"It is also a salary cap league so there are variations on how you put your squad together, with some designated, top players. Some clubs spend more than others and that is the challenge but the overall experience was great for me."
Having worked across Canada and the United States, Forrest joked that he will adapt easily to the travel demands of Scottish football.
He added: "I hear people here talking about a trip to Ross County being far but the travelling over there is something else altogether.
"We were on the west coast and if you go to play a New York team then it is massive distance. That is a test for players.
"So a trip to Paisley or Ross County, for me, is a breeze."