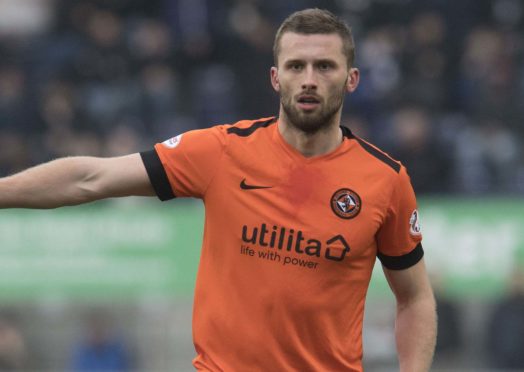 Pavol Safranko has confirmed that Dundee United want to keep him.
And the idea of staying at Tannadice appeals to the Slovakian as well.
The 11-goal striker has settled in well on Tayside after his loan move from Denmark, with the football and country both to his liking.
And the ball is now rolling with a view to making his United deal a permanent one.
"The sporting director has spoken to me," said Safranko. "The club are interested in buying me and we will see what happens.
"There is a chance I will stay here beyond the end of the season but I still have two years left with Aalborg.
"So we will have to see what happens, but it is nice the club would like me to stay.
"I have always tried to do my best, try as hard as I can on the pitch and then be as professional as I can off it."
He added: "In Scotland I feel comfortable.
"In Denmark every time you go near a player he falls over and it's a foul so it's good to play in a league where you can be more physical.
"I like the aggression of Scottish football. It suits the way I play.
"Scotland is also a very good country, the people have been good to me and I have spent a lot of time with my missus on days off seeing things.
"The best place I have been so far is probably Dunnottar Castle. That was very nice.
"That was one of the best places I have ever been.
"Scotland reminds me a lot of Slovakia so that has been a help to me."
Safranko believes there is room for improvement in his own game, particularly now that he has a strike-partner for company.
"I have enjoyed my time here," he said. "I've scored a few goals but I can score more.
"I have been OK. I haven't been fantastic but I always want to do better.
"There are things I can improve on. I am 24-years-old and you can always get better as a player.
"You are always learning and I think I have been doing that this season.
"Confidence is always a big thing in football and sometimes it goes up and down.
"But now I am confident and I think I am going to score when I play."
On his developing partnership with Nicky Clark, Safranko said: "Nicky is a very good player and I think we are getting a good partnership on the pitch.
"On and off the pitch I respect him and I am learning from him.
"He is a player I had heard of before I came here and I think his style of play fits together with mine.
"I am more of a target man where he plays around that kind of player and is clever.
"He is also a goalscorer so having him playing in beside me helps because we can play as a partnership."
Safranko scored the last time United travelled to Firhill – Robbie Neilson's first game in charge.
And the Slovakian international admitted there is little margin for error today if United want to win the league and avoid the play-offs.
"Our future is clear in the league now," he said. "We must win.
"We said before the season started the ambition was to win the league and now we have 10 games left.
"We have to win virtually every match but we can't look at Ross County.
"All we can do is focus on ourselves and win our matches.
"We have to beat Partick this weekend and then when we play Ross County we have to beat them too.
"There is no margin now. It's all about winning every match.
"I scored the winning goal against Partick the last time we played there and it was one of the best performances we have put in.
"The cup result was disappointing but the league is the main thing now and we have to focus on that."