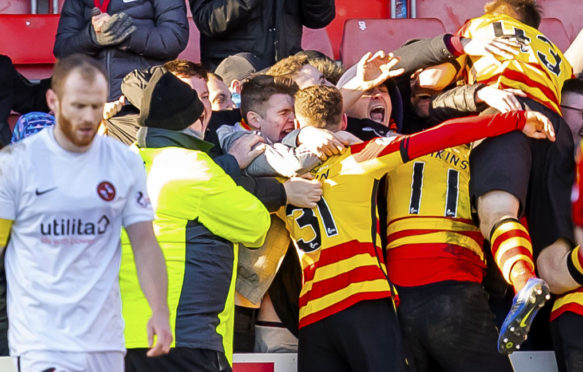 A dispiriting weekend for Dundee United has left Courier sports writers Neil Robertson and Eric Nicolson contemplating the issues that have left them staring at the play-offs.
You wouldn't expect the Dundee United manager or players to say it but you can. Is that the Championship title race over?
NR: There are still enough points to play for to say it isn't but I would certainly not be 'investing' even a small percentage of my wages at the bookies on Robbie Neilson's side pipping Ross County. After the Scottish Cup defeat to Inverness, the United players needed to make a big statement against bottom-of-the-table Partick but instead they came up short again.
EN: I always felt Ross County were better equipped to win the title and it won't surprise you to read that last weekend hasn't changed my mind. I think United will raise their game in the two remaining head-to-heads but leagues are won by dealing with the lesser lights in a clinical fashion and United haven't been trustworthy in that regard – summed up by Saturday's performance at Firhill.
The play-off situation has tightened up as well. This isn't a good time to lose form and confidence, is it?
NR: It certainly isn't. If the title race really is all but over, it is vitally important that United finish the best of the rest with second place guaranteeing a slightly-easier path through the play-off minefield.
EN: United's performances are throwing up more questions than answers. I still see them ending up the best of the rest but it will be much tighter than it looked like being a couple of weeks ago – mainly because of Dunfermline's unexpected resurgence.
Are you surprised that the Reynolds-Connolly partnership isn't looking stronger?
NR: I watched them help United beat St Mirren in the Scottish Cup when they dealt with just about everything the Buddies threw at them that day. However, the duo are probably still getting to know each other's game and it is also worth remembering that Reynolds has only played five matches this season after rupturing his cruciate in the summer.
EN: There is no doubt Scott McDonald got the better of them on Saturday and there were a couple of occasions when they struggled badly for pace. The remaining league games are a chance to build a proper relationship on the pitch because, make no mistake, if Reynolds and Connolly don't become a strong partnership, United won't go up.
Which concerns you most at the moment – United's defence, midfield or attack?
NR: What struck me during the Inverness defeat was that the Highland outfit looked like a team while United were disjointed. I don't think any United department is performing as it should at the moment.
EN: The defence wasn't great on Saturday, as mentioned, but I would expect that to improve. United's inability to score from open play at the moment is probably a bigger concern. Osman Sow can't be counted upon and the Safranko-Clark partnership isn't clicking.
A nice easy one to get back on track with at the weekend . . . five-in-a-row Dunfermline.
NR: At one point, I feared the Pars would be sucked into the relegation dogfight but there has been a remarkable turnaround in recent weeks. Five wins and five clean sheets says it all. They will no doubt be going all out to make it six of the best on Saturday so United will really have their work cut out.
EN: Dunfermline used to be a feast or famine team but now they're a grinding out results one. My Fife spies tell me that there is plenty of room for improvement and that the Pars haven't actually been at their best in most of those five matches. That makes Crawford's achievement even more impressive. Their gameplan will be similar to Partick's last weekend. Win and they will rightly believe United are catchable.
Dundee were unlucky not to get any points at home. We've heard that a few times this season though, haven't we?
NR: Yes, unfortunately the broken record was back on the turntable once more. Dundee did deserve at least a draw on balance of play and chances created but just could not put the ball in the back of the net. As I said, in my Monday comment piece, time is fast running out for the Dark Blues – the familiar failing of hard-luck stories has to end and soon.
EN: Not picking up points at home to the likes of Hibs and Hearts is the reason Dundee just can't put daylight between themselves and the bottom.
Has Kenny Miller underwhelmed for you in the dark blue since Neil McCann brought him in?
NR: That seven-goal purple patch in just five games during November/December seems a long time ago with the former Scotland man experiencing a barren spell since. He did come agonisingly close to scoring late on against Hearts but was denied by a superb save. To be honest, Miller has done pretty much what I expected of a 39-year-old striker after he was signed by McCann. Whether he deserved a two-year deal, is a whole other argument.
EN: Anytime I've seen him he's been OK. Dundee fans hoped for a bit better than OK, though.
It's Celtic up next for Dundee, while St Mirren and Hamilton have more winnable games on the face of it this weekend. Would either of you take second bottom for Dundee now if it was offered?
NR: I wouldn't. There are still too many games left. As long as the Dark Blues remain in touch at the split, then hopefully they can stay up without going through the nail-biting agony of the play-offs.
EN: Absolutely not. Dundee are still my favourites to win the three-team league they're in.
All sorts of statistics are coming up now about this St Johnstone run of form. It's a shocker. How do they go about stopping it?
NR: I thought they would have brought the miserable run to an end on Saturday against Livi but obviously, that didn't happen. Nostalgia ain't what it used to be and all that but it is difficult to contemplate Saints sides of recent vintage allowing a slump like this to go on for as long as it has. The current crop have stop the rot against St Mirren at McDiarmid on Saturday.
EN: Saints were at their best when they had Drey Wright doing his thing on one flank, Matty Kennedy on the other and Tony Watt through the middle. Obviously, Wright is out for the season but I'd be tempted to start Michael O'Halloran, Kennedy and Watt.
Hindsight and all that but did Tommy Wright need to bring in as many new faces in January?
NR: On paper, the captures of Michael O'Halloran, Danny Swanson and Sean Goss all looked like astute signings. There is nothing wrong with trying to freshen up a squad in January but it doesn't appear to have worked out as planned.
EN: O'Halloran and Swanson will hopefully be back to their best after a full pre-season and should still prove to be wise long-term recruits. Goss has underwhelmed so far even though, as with the other two, there are mitigating circumstances.
Arbroath have just lost at home to the bottom team in League One. Is there time left for the collapse of all collapses?
NR: I will forego my usual weekly phone call to Dick Campbell to preview this Saturday's game with East Fife and let Eric ask the manager that particular question!
EN: Panic not, Arbroath fans. The title is still in the bag.