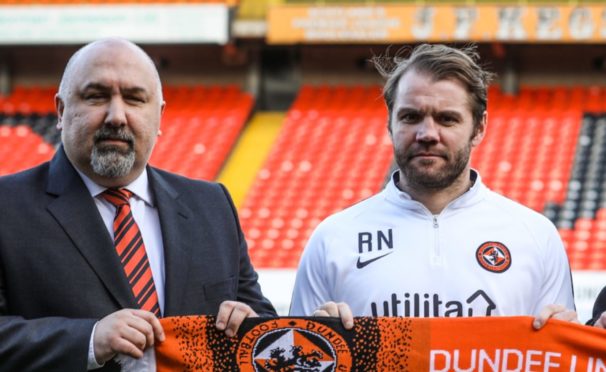 Robbie Neilson will be the Dundee United manager next season even if the club fail to secure promotion, sporting director Tony Asghar has confirmed.
The Tangerines' hopes of going up as champions are remote after an injury-time equaliser denied them victory against Ross County on Friday night.
Asghar hasn't given up the title just yet and believes that if United do have to go into the end-of-season play-offs, they are well-placed to make it third time lucky.
However, should it be the worst-case scenario of another campaign in the second tier of Scottish football, Neilson is "100%" assured to be the head coach for it.
"He is absolutely part of the long-term plan. 100%," Asghar told Courier Sport.
"The relationship between us is fantastic and is getting stronger and stronger. Robbie understood right away what my role is.
"The key thing is trust. He trusts my judgment in terms of supporting him. I trust his judgment in regards to how he fulfils his role as head coach.
"I think he's one of the best young managers in this country.
"I've got to know a lot of managers over the years but the way he works with his players, and the belief the players and coaching staff have in him, is second to none.
"I'm sure he will be here for a long time.
"We've looked at two, three and four-year plans.
"I hope to be here a long time and for this club to be playing European football. I think we can do that.
"When teams like Kilmarnock, Motherwell and St Johnstone have success on – let's not be about the bush, lower budgets – it's because they've created a good environment for players to do well.
"That's what we're doing here. Robbie is driving a lot of the changes we've needed, alongside me."
Asghar added: "His job is being successful on a weekly basis. My job is to plan for the next transfer window and the ones after that.
"Make no mistake, the focal point of a football club is always the head coach.
"That doesn't mean that if things don't go well, the finger will be pointed at Robbie.
"There's collective responsibility.
"When we have success that is down to everybody at the club, and I include the fans in that.
"We're called Dundee United and we need to be united. I feel the supporters' pain and how worried they are but we all want the same things."
Asghar is optimistic about the crucial last few weeks of the season.
He said: "We wanted to be competing for automatic promotion and we're still hanging on for grim death.
"We still believe there are twists and turns to come.
"But we're in a great place confidence-wise. I feel very happy with where we are now going into a possible play-off situation.
"A lot of the players we signed didn't have pre-seasons and they're getting up to speed now."
Mark Reynolds recently agreed a three-year contract and Asghar revealed that playing on artificial pitches will no longer be an issue for the former Aberdeen man.
"We gave him a three-year deal because we believe he will play at the top level for three years," he said.
"Our medical team have said he's in great physical shape.
"The stuff about playing on astro is a bit of a fallacy. He was coming back from injury and was asked not to play on it for a few week weeks. But that isn't going to be an issue.
"He'll be playing on it moving forward.
"We're delighted to get a Premiership player who had other offers."
See Thursday's Courier for Tony Asghar on United's academy plans, why his son got a coaching job with the club and what fans can expect in the summer transfer window.