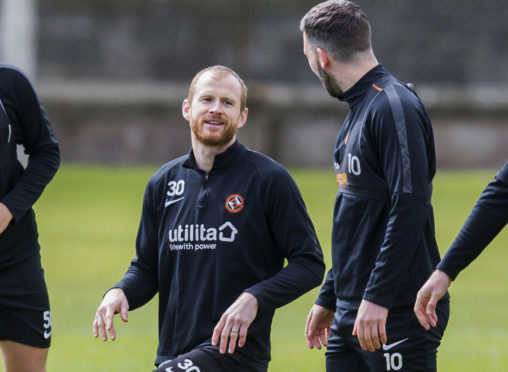 Dundee United captain Mark Reynolds has told the fans their message has been received loud and clear.
The Tangerines' players gathered around the TV to watch a video compiled by supporters, including TV star Lorraine Kelly, telling the players just what it would mean to see their team back in the Premiership.
Reynolds admits it hit home and assured them he and his teammates will be doing everything possible to end the club's three years of hurt spent in the Championship.
He also feels it could be even more important for the club and city to achieve promotion now that local rivals Dundee have been relegated.
United meet Inverness Caley Thistle in the Premiership play-off semi-final first leg in the Highland capital tomorrow night, with the return taking place at Tannadice on Friday.
There will be a big travelling support snaking its way up the A9 to cheer them on in what Reynolds hopes will be the first of four decisive fixtures.
The former Aberdeen central defender said: "It would be huge for the city if we could get up.
"I have been used to a one-team city but here there is a real split here and that banter between United and Dundee fans.
"You see how much it would mean to our supporters to be the dominant team in Dundee again and have the bragging rights again.
"We want to be the team that gives them that and to be the only Dundee team in the Premiership!
"That is what it is like and we saw a video of our fans and the overwhelming thing is that they want United back where they belong.
"They want to be up challenging and going to Celtic Park, Ibrox and Aberdeen playing in the big games.
"There were messages of good luck and explanations of what promotion would mean.
"It can be hard to know what it means sometimes because we don't train in Dundee.
"I am in and about the city a wee bit but not immersed in it and not there every day.
"When you are a relegated club you can have that disconnect but we have built bridges and the fans are buying back into it and can see we are doing our best and pulling in the one direction.
"Therefore, it was right that we saw in the video what it means to the supporters and how much it has hurt them to be down.
"Now it is over to us to make sure we understand the magnitude of what we could achieve."
With hope and expectation comes pressure but Reynolds feels United have players to cope with what the next few days will throw at them.
He added: "I think the pressure is always there at a club like this.
"Within this changing room we put pressure on ourselves as much as anyone externally.
"The club has been set up to get back into the Premiership and we have been brought in to get the team there.
"The pressure has been there since I came in, certainly. Promotion has been the sole focus, whether it be via the play-offs or, as we had hoped, automatically.
"Maybe externally people are ramping it up and saying there is an extra pressure but it has always been there.
"The good thing is that we had second place tied up before the last game and it allowed the manager to make some changes and give some of the boys game time.
"We could take our foot off the gas a wee bit and start to look at the play-offs and get everybody 100%.
"We feel strong and we are all in a good place."
Reynolds is well aware that ICT will be formidable opponents but he feels the Tangerines can deal with them.
He added: "We know they are going to be tough games and they are almost like cup finals.
"We have to approach them right because anything can happen in knockout games.
"Inverness are a good side.
"We beat them in the league but they knocked us out of the cup.
"They are a big physical team and know what they are about.
"They have the physicality but they can play football and don't just launch it up the park.
We just need to focus on ourselves and what we do(."