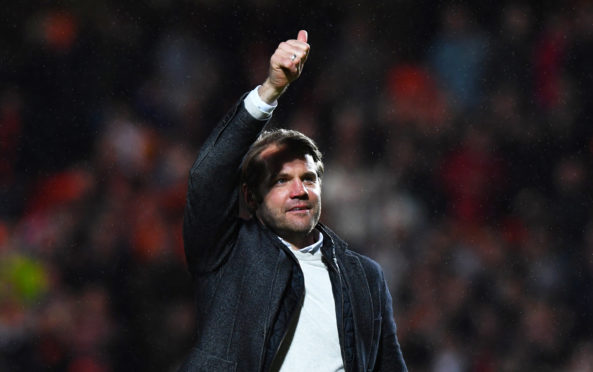 Dundee United manager Robbie Neilson revealed he was only seconds away from substituting crucial goal scorer Nicky Clark.
The Tangerines reached the play-off final thanks to a 3-0 win last night at Tannadice and 4-0 success overall.
Dundee United 3 Inverness CT 0 (agg 4-0): Goals galore as Tangerines reach play-off final
It was Clark who got them on their way and settled some of the nerves with a penalty in first-half stoppage-time.
In the build-up to getting the breakthrough he had looked injured – the result of a clash with teammate Paul McMullan.
It was just as well he stayed on as he sent ICT keeper Mark Ridgers the wrong way.
Second-half goals then followed from Osman Sow – his first for United – and sub Pavol Safranko to send them into next week's two-legged decider against either St Mirren or Hamilton Accies.
Tannadice boss Neilson said: "I was actually going to be taking Nicky off – he was 30 seconds away from it.
"He was saying he was fine but he was hobbling about so we had Sam Stanton ready.
"I am just glad to get through.
"The 1-0 victory up there was good but there was always going to be pressure coming back here.
"You go in as strong favourites because you are ahead so to get that second goal was very important.
"I thought in the second half we were quite comfortable.
"Nicky's penalty came at a great time for us.
"I know Robbo (Inverness boss John Robertson) was very disappointed and I have heard his thoughts on it but from our perspective I was just delighted that it went our way.
"We felt that Inverness have had a very tough schedule and we knew that after 50 or 60 minutes the game might open up.
"In my opinion we are not even halfway there.
"We went into this game as favourites but next time we will be underdogs against a team that has been in the top flight all season, playing against better opposition week in, week out.
"Tonight was just about getting through."
Neilson revealed he will hot-foot it to Hamilton today to watch Accies at home to St Johnstone, having already seen St Mirren.
"I am going to go to Hamilton," he said.
"I have seen a bit of St Mirren and we have played against them.
"It is difficult to tell if that's the right decision. It's a bit of a gamble."
Meanwhile, Robertson was raging at the penalty decision, in particular the manner in which he was treated by fourth official David Lowe.
The ICT boss said: "We were playing well but then it's taken out of our hands.
"It was a shocking decision. We are told at referee seminars that if the ball is deflected onto the player's arms it is not a penalty."
He added: "After the goal, there was a water bottle lying, I flicked it with my foot, it went about a foot in the air and clipped the back of the fourth official's calf which was translated into my losing the plot, getting irate and smashing a water bottle at him.
"It was the biggest lie ever and I'm prepared to take this all the way. To be sent to stand for that is an absolute joke."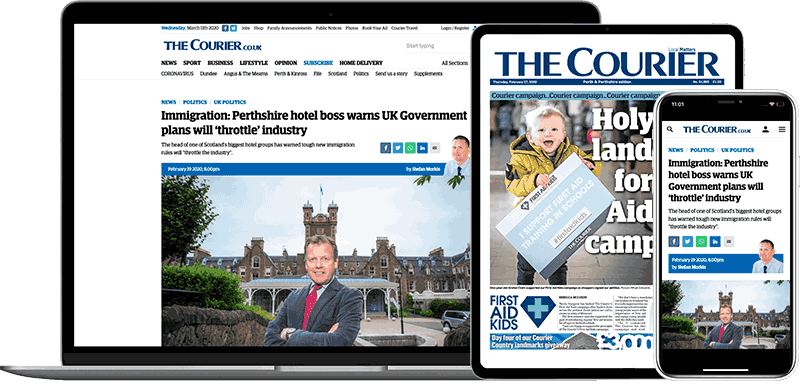 Help support quality local journalism … become a digital subscriber to The Courier
For as little as £5.99 a month you can access all of our content, including Premium articles.
Subscribe