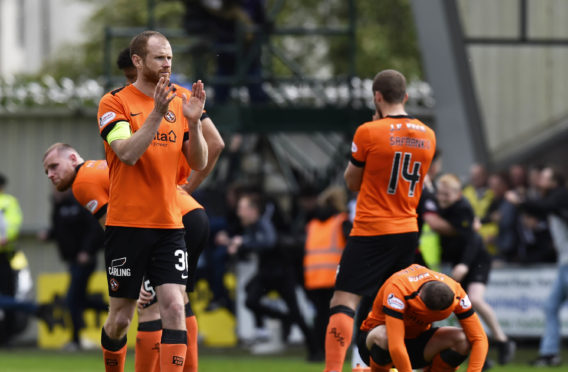 Dundee United will aim to dominate the Championship from start to finish next season, according to captain Mark Reynolds.
Reynolds has been left pondering what might have been in the wake of the Tangerines' third failure to get promoted via the play-offs.
The loss to St Mirren in a disastrous penalty shootout again showed how precarious it becomes when you don't clinch automatic promotion as title winners.
Reynolds obviously hopes it will be fourth time lucky for United but, more than that, he spoke of a determination within the ranks to stamp their authority on the division from the start.
The central defender said: "I think if we had this squad at the start of the season we would have probably got promotion automatically.
"We just didn't have enough time from January to close the gap on Ross County, who were relentless.
"It was sickening on Sunday. It was such a horrible way to lose it with so much on the line.
"When I came to the club in January the idea was to get promotion, whether that was automatically or through the play-offs but unfortunately it's just fallen short on the last day on penalties so that's a hard one to take.
"We will go away now and get ourselves together and come back stronger next season.
"Now it's about making sure we're champions next year.
"Obviously there's an added spice with Dundee there next year and the return of the derbies but we want to finish ahead of everybody, not just Dundee.
"There are always teams that come from nowhere to challenge so I think there will be two, three or maybe even four teams who will win games and put themselves in the frame.
"But if you look at how County went up, dominating from start to finish, that is the way we'll look to do it.
"We will go away for a couple of weeks then come back looking to start strongly and carry that momentum all the way through because that's what title winning teams do.
"We want to be strong and dominate that league so that we go up automatically."
Reynolds hit out at the play-off schedule and suggested the final should have been a one-off decider.
He said: "We got through to the play-offs and I don't know who designed them but it certainly wasn't a footballer.
"You end up playing all sorts of games jammed into the end of the season with two days between matches and the second game goes on for 120 minutes.
"It just seems madness to cram in all these games.
"I don't know why it can't be done in one game.
"You could it see it at the end that the boys were tired. It was a big game with a lot riding on it but it wasn't a great spectacle and obviously we've come off worst."
Club owner Mark Ogren's message that staying down will not be the end of the world for the Tangerines has been welcomed. Indeed, the American has hinted that their fourth promotion bid will be better funded than the previous attempts.
Reynolds is obviously happy to hear that, saying: "I think the squad will strengthen in the summer and it's good to have that ownership that has come in and shown a bit of faith by putting in the money that's needed to get United back.
"It's a club that wants to be up there in the Premiership competing.
"Throughout my career United have always been a team that's been fighting for trophies and European places and always doing well.
"So to see them down here is not nice and for the fans and to have a fourth year in the Championship is hard for them.
"If we can take positives it is that the fans seem to be coming back.
"Hopefully, we've done enough to keep them coming back."