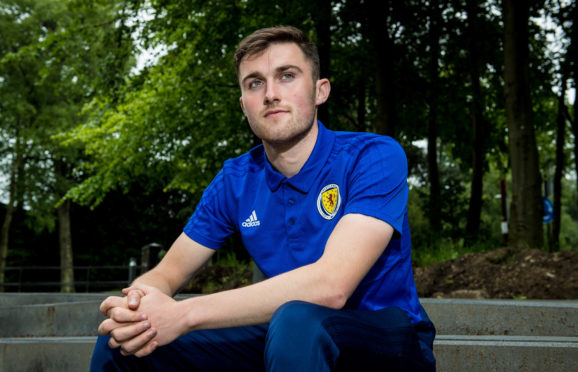 John Souttar has described the achievement of his pal Andy Robertson in winning the Champions League as "incredible."
However, Souttar insists it didn't come as a surprise to him because he knew Robertson would hit football's dizziest of heights one day.
Souttar watched his old Dundee United teammates glory night against Tottenham Hotspur on a mobile phone because he was attending the wedding of Dundee goalkeeper Jack Hamilton and didn't have access to a TV.
Nevertheless, he was still able to enjoy seeing a player with whom he used to enjoy a kickabout down on the banks of the Tay when they shared a house become a Liverpool legend.
Souttar will be able to congratulate his friend and fellow Scotland star when the national captain finally leaves the Anfield party and joins up with the national squad at Oriam later this week ahead of Saturday's home Euro 2020 qualifier against Cyprus.
It will be then that he will tell him he always thought he would do it.
Souttar said: "It's an incredible achievement, obviously, to win the Champions League, considering where he has come from.
"We are running out of words to describe it.
"He deserves everything he's got.
"I watched the final at Jack Hamilton's wedding.
"I had to watch it on a wee phone but it was still incredible!
"Jack didn't have a screen up at his wedding so a few of us were crowding around.
"It's just sort of to be expected from Andy now, isn't it?
"He was in the Champions League final last year so it hardly comes out of the blue.
"He has worked so hard for this success, right back to his days at United," added the now Hearts defender.
"He has kept doing that and deserves every reward he gets."
Souttar was asked to recall a photograph that was taken of him, Robertson, Ryan Gauld and Joe McGovern back in 2014.
It shows them as raw teenagers enjoying a kickabout near their digs by the Tay outwith their normal training hours at United.
Souttar said: "I think that sums up his attitude.
"We were really young then and we just used to play football all the time.
"We would go down the local park and play with the boys from our digs on a day off, play four-a-sides and just enjoy it.
"That is just what Andy is like. He loves the game, is so down to earth, works hard and takes everything in his stride.
"I think he had goalie gloves on in that picture because we all used to take turns in goal.
"When you cast your mind back, you can't help but think about where he was then but look at the season he has had at Liverpool.
"He was in the PFA team of the year, so it wasn't a shock to see him win on Saturday.
"He's still the same guy he was, exactly the same. That's probably why he's done so well.
"He is down to earth, doesn't get carried away with himself and is probably an example for every other player."
Souttar feels some credit for Robertosn's rise should go to then United boss Jackie McNamara, who allowed his Tannadice youngsters to play without worrying about making errors.
He said: "I think we just got the freedom to play under Jackie, even if we made mistakes. Jackie was good at that.
"We were so young and, although a lot of us went on to do well, it was just like playing with your mates.
"It was a great atmosphere at the club then.
"It was just an enjoyable period, when we were given the freedom to play, to go and express ourselves. We didn't worry about making mistakes.
"A lot of young players don't get that chance but we stayed in the team the whole season, got game after game, and it was a good time.
"Andy just played without fear the whole time and still does the exact same now at Liverpool."
Souttar is proud that his captain at international level is now a Champions League winner.
"I'm sure he will bring that confidence with him this week," he said.
"I think Liverpool will have a lot of stuff on after winning the Champions League and he will get that done before joining us.
"He deserves a few extra days off and he'll meet up with us later in the week.
"He is our captain and we will all be looking forward to congratulating him in person.
"I have sent my congratulations already by text but I imagine Andy's phone has been quite busy!"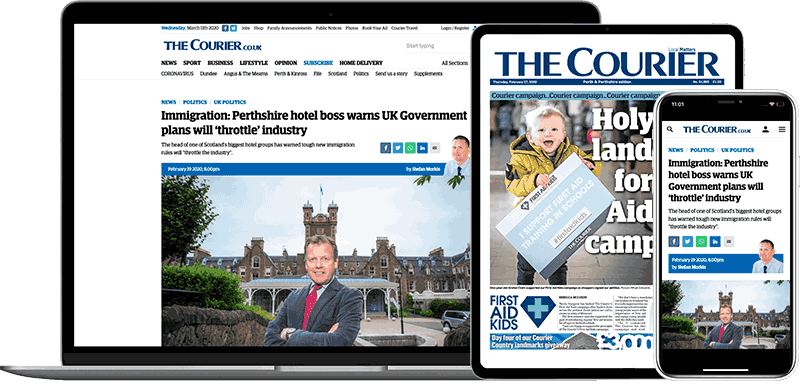 Help support quality local journalism … become a digital subscriber to The Courier
For as little as £5.99 a month you can access all of our content, including Premium articles.
Subscribe