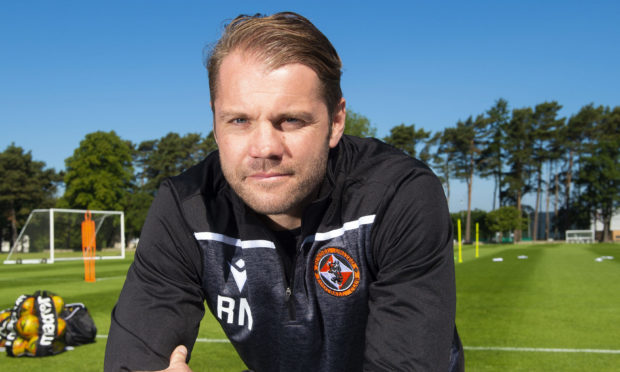 Dundee United boss Robbie Neilson admits he has "aimed high" in his pursuit of Lawrence Shankland as he looks for quality not quantity.
Neilson, who has been putting his players through pre-season training at St Andrews this week, has made an offer to the Ayr United striker's representatives and is awaiting a response.
Should the in-demand 23-year-old say yes then the Tangerines' manager will be delighted.
Should the answer be no then he will just move on to other targets.
Neilson confirmed he is likely to bring in just two or three more players – which would, ideally, include Shankland – over the summer to join fresh faces Liam Smith and Adrian Sporle.
The watchword at United this close-season is "continuity" and the gaffer is convinced that there is no need for wholesale change at Tannadice.
Neilson said: "Lawrence is a player who is available and one we would like to bring in.
"We want to be going for good players. We don't just want to be going around the merry-go-round of the same players.
"I think it is important that we aim high.
"There are a number of players we are looking and we are working through a list of people.
"We have three or four targets for each target position.
"I would actually be content to start the season with this group as it is now.
"I am more than happy with the squad we have at the moment but we could still bring maybe two or three more in.
"They will have to be boys that will bring in more quality and improve the squad as opposed to just fill it up.
"I am conscious about not making too many changes because I think continuity is a big thing.
"I don't want to go crazy on recruitment.
"You look at some other teams and they are bringing in 14 or 15 new players and that has been a problem here in the past.
"I hope continuity in the squad can be an advantage for us. When you bring in 14 or 15 guys they might gel or might not. You just don't know.
"It could be that five will do well, five will be terrible and the other five may or may not work out.
"I look at Ayr who came into the Championship last year, didn't change too much over the summer but did really well. I also look at the top league and see how Livingston didn't change much but still did well.
"Hopefully, we can be a bit like that."
Neilson revealed he and sporting director Tony Asghar had both hoped to keep a lid on the Shankland bid but moved to confirm it when faced with media interest in the story.
The United boss said: "Shankland is one that came up and we would have liked to have kept it under wraps but it came out.
"We decided to comment on it and be honest about it.
"We have offered a deal and it could get done tomorrow or it could happen on August 31.
"Until a player is here with a scarf over his head… Mind you even at that point you can't be sure!
"No, until the contract is signed you just have to wait and see."
Two players who definitely will be wearing tangerine in the new season are Adrian Sporle and Liam Smith, both of whom have been getting to know their new colleagues this week.
Neilson is looking forward to working with both, saying: "Liam has come in on a pre-contract and he is from good stock having played in the Championship with Ayr and in the Premiership with Hearts.
"Adrian is one whom we tracked since January. We had people out there in Argentina who watched him for us and I think he will bring really good competition to that position.
"We were really keen to get him here as quickly as we could. His contract at (Atletico) Banfield didn't finish until the end of this month but we spoke to them and asked to get him early. There was no problem at all getting him out as they were just wrapping up their season.
"I think it's important that he gets all of the pre-season training and gets his English improved as well. He needs to get used to his new surroundings and it is a big change for the boy as he is coming halfway around the world to play. He is desperate to do well."
The Tangerines have three players still working themselves back from injury and not yet doing the pre-season work.
They are Calum Butcher, Ian Harkes and Peter Pawlett.
Neilson said: "Calum had a groin injury right at the end of the season in the St Mirren game, while Ian also had an injury over the summer.
"I expect the two of them to be back next week and maybe play in the two games following this Saturday's one at East Fife.
"Peter had an issue with his knee carried over from last season and he should be back soon as well."
United, meanwhile, appear to have accepted that frontman Pavol Safranko won't be returning to Tannadice from Danish club Aalborg.
Neilson said: "We have been costed out of that, to be honest with you.
"Pavol did really well when he came in but probably hindered us to a point in that he got into the international team and that meant Aalborg wanted to bring him back and look at him in pre-season."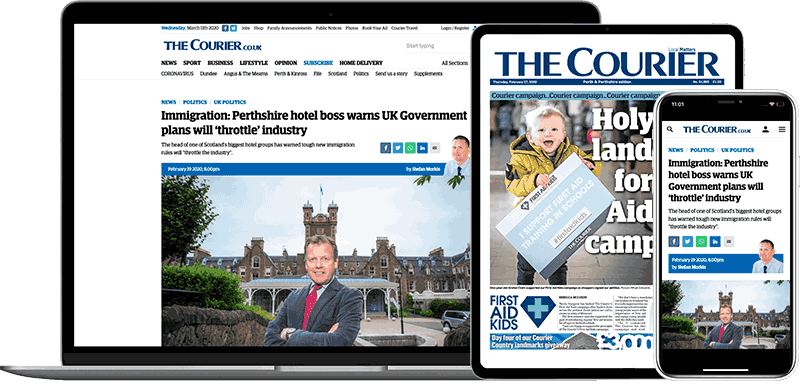 Help support quality local journalism … become a digital subscriber to The Courier
For as little as £5.99 a month you can access all of our content, including Premium articles.
Subscribe