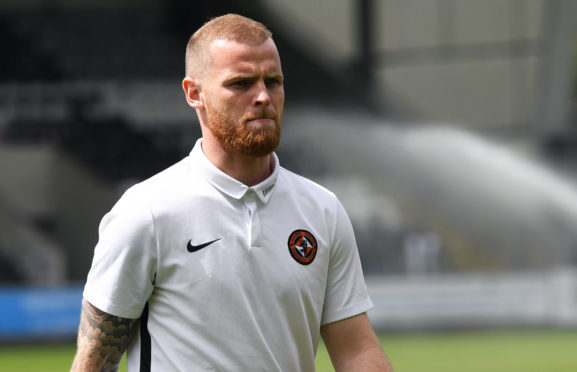 The two Marks will be an improved central defensive partnership for Dundee United this season, according to Mark Connolly.
The Irishman and Mark Reynolds were both January recruits, who were developing their understanding on the job.
But Connolly believes that the weeks of pre-season training and matches that don't count for points and cup progression will be a huge benefit – both to them as a pairing and the Tangerines' team as a whole.
"Normally you get the chance to play a few games in pre-season to get to know each other," said the former Kilmarnock player.
"You might make a few mistakes but they don't matter.
"I thought we were quite solid for the few months we were a partnership but 100% it can get better.
"The two of us have the experience to help each other and the players around us.
"Potentially we could have two new full-backs. Smithy (Liam Smith) and Adrian (Sporle) have been brilliant in training. They're good players with the right mind-set.
"We'll be trying to keep as many clean-sheets as we can and hopefully there will be plenty of goals from the boys up front."
Three signings have been made so far but that is small beer compared to the previous two transfer windows. And Connolly believes that was the right approach from the club's management.
"It feels as if we've all been able to hit the ground running this time," he said.
"The way the manager here wants us to play is very intense, which is brilliant. But it takes time to get used to.
"It was difficult after January.
"We knew that we had an uphill task to catch Ross County. Coming into a new environment with new ways of working in the middle of the season is tough.
"Every manager does things differently.
"There is stability now. The majority of the team has been here since January, with a few coming before that.
"We were speaking to each other over the summer after the disappointment of not going up and now we're ready to go again.
"There was no margin for error last season after January. This time we've got a full programme and if something does happen, we've got enough time to put it right."
Connolly does not subscribe to the theory that the Championship title race will be centred on two clubs on the same street.
"I don't think many people were speaking about Ayr this time last season and look how well they did," he said.
"Inverness came on strong in the second half of the year.
"People will look at ourselves and Dundee as the two big clubs in the league but Partick have made some good signings as well. So have Dunfermline.
"It will be difficult again but all we can do is focus on ourselves.
"There will be pressure. There's always pressure here.
"You've got to be ready to deal with it.
"We conceded one goal in four play-off games and didn't go up. That was tough to take.
"But we have to use the pressure we were under in the play-offs to help us in the new season.
"All the lads want to be playing in big games and winning trophies."