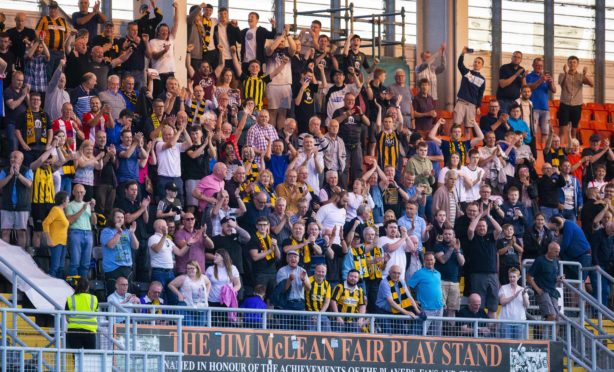 Jordan Hart ensured it was last orders for Dundee United before raising a glass to East Fife's heroes.
The Bayview goalkeeper, who also works part-time as a barman, was the toast of Tannadice as he made sure the Tangerines suffered a heck of a Betfred Cup hangover.
Goals from Aaron Dunsmore and Liam Watt secure a deserved 2-0 win for the Fifers in their Group A clash on Tuesday night.
However, politics graduate Hart also played a massive role at the other end of the pitch.
He felt the success – their first in a competitive match against United for 47 years and first at the Tangerines' ground since just after the Second World War – highlighted the dedication of players who, himself included, don't just put in the hours on the park.
Hart said: "We often have boys who go from training straight to do night shifts at work.
"I have just finished studying so am working part-time in a bar after graduating.
"That is keeping me going just now and giving me a wee bit of pocket money!
"It is really a testament to the hard work that we all put in to get a result like that at a place like Tannadice.
"It was a really happy dressing room.
"The boys were all shattered because we gave it our all but we deserved it."
The keeper stressed how the League One team got their game plan absolutely right against a side expected to challenge for the Championship title this season.
He said: "I would say that we go into every game with a good attitude.
"It is always the same when you are from a lower division. You have a bit more bite about you when playing full-time teams and bigger clubs.
"Our attitude was spot on from the first minute right through to the last.
"Our shape was great all game and we worked really hard not to drop too deep and invite too much pressure.
"The credit has to go to the defenders in particular but also the whole team for the way we pressed and left wee traps open.
"It was just great.
"I think it is psychological when you come to a bigger stadium and you are playing a bigger club – you expect an onslaught.
"You know you are going to have stuff to do and when you are a goalkeeper your job is to keep the ball out of the net.
"I managed to do that and our strikers took their chances when they got them."
Hart also didn't concede in the previous cup-tie against Stenhousemuir but will be tested to the limit when Hearts visit Bayview on Saturday.
He said: "It is always a big thing to get a clean sheet, not only for the goalkeeper but for the whole team.
"You work really hard all week and, as good as it is getting the goals at one end, it is really positive to keep a clean sheet, especially as that's now two on the bounce."