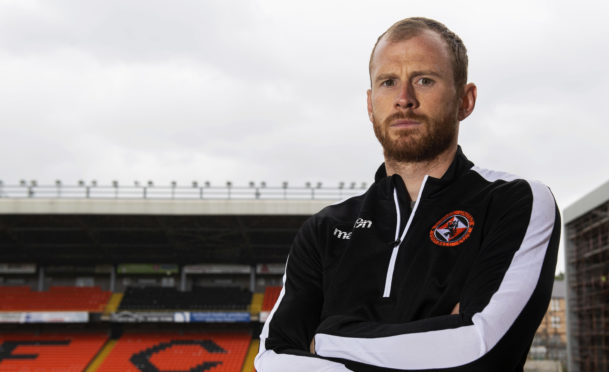 Dundee United captain Mark Reynolds believes the time for talking a good game is over following their East Fife embarrassment.
The central defender is fed up of "clichés" and the "same old nonsense" and thinks the Tangerines now have to show on the park that they deserve to be considered Championship promotion contenders.
They suffered a historically bad defeat to the Fifers in the Betfred Cup on Tuesday night, with the Methil men having to go back 47 years for their last competitive win over United and 73 years for their previous success at Tannadice.
It has burst any balloon of optimism that had been flying over the club.
Despite that, a large travelling support will head south to Shrewsbury for today's friendly against the English League One side  – their final fixture before the league campaign kicks off next Saturday.
Reynolds knows the players have to up their game considerably if they are to get off to a flying start against Inverness Caley Thistle in that home opener.
He said: "It takes a long time to build confidence, get the fans back involved and build up momentum.
"A result like that (against East Fife) puts us back to square one.
"We will need to learn from it.
"It is hard to talk about it because you feel as if you are just throwing clichés out there and repeating the same old nonsense.
"Criticism will come our way but if we want to be at United and be successful we need to take that in our stride.
"It is important to learn from it and make sure it doesn't happen again.
"We are at a stage where everybody is wanting us to talk a big game, talk about promotion and keep building ourselves up," added Reynolds.
"However, we need to be putting in performances.
"I have had these results before in my career, where they seem to have come out of nowhere.
"But we are a scalp this season and there are very few people want to see us go up and see us do well.
"Everybody is saying how we are talking the talk, that we did that last season but didn't live up to it.
"Again, do we deserve to be talking like that?
"We have stepped up, put our necks on the line and said we are a team that should be going up.
"We do think we have a good squad and have good enough players to go up.
"We do need, though, to back that up.
"It was nowhere near good enough against East Fife and I think everybody knows that.
"I think we all – to a man – could do better and have a lot more that we could bring to the game."
It was suggested to Reynolds that they can't afford any results like the one against the Fifers when the league action starts or they will be left behind by rivals.
He agreed, saying: "That is exactly right.
"I have never won a league.
"I was at Aberdeen when we ran Celtic close. I say close but they still finished 11 points clear of us (in season 2017-18).
"That was when we seemed to be winning every week and going maybe a dozen games undefeated. We still came up short.
"So I have been telling the boys here that to win titles you need to be relentless.
"You can't afford slip-ups. You can't play well against Hearts, win your next two games and then put that kind of performance in.
"There is an expectation there.
"We do have a good changing room and a great bunch of young boys coming through.
"They are good players, full of confidence and lads who can go on and be great players for us this season.
"We need to all be in it together.
"It is almost an us against them mentality and if people don't want us to be successful and say we are talking a big game then we need to keep what we think in the changing room.
"We have to make sure we have each other's back and when we go out on the pitch that's when we do our talking.
"Otherwise, you just feel like you are throwing clichés at everybody.
"Talk is cheap. You can talk all day and say this or that but ultimately it is about performances."