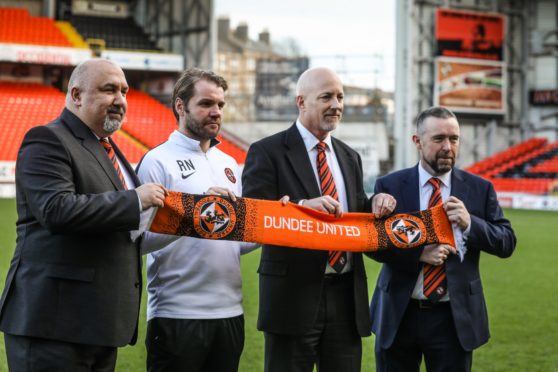 Mark Ogren gets over to Scotland as often as he can but is more than  happy with how Dundee United has been run in his absence.
The American, who will be attending the season curtain-raiser ahgainst Inverness Caley Thistle tomorrow, has sung the praises of manager Robbie Neilson, sporting director Asghar and managing director Mal Brannigan.
He said: "I have gotten to know Robbie well over the time I have been at United and he has proven in the past that he can get a club promoted.
"He has done what we are trying to do here so there was never any doubt that he would be our manager. I am very pleased with him.
"It was because of Tony and his company Revolution Sports that I bought the club.
"He helped us find Dundee United.
"Within that process, I got to know Tony very well.
"My son Scott and I told Tony, very early on, that we would only purchase a club if Tony would be involved and oversee the club.
"That tells you that we, the Ogren family, have a high level of confidence in him and the rest of the staff.
"It was a pre-condition of the purchase and he agreed to that.
"He then ended up finding Mal Brannigan, our managing director.
"As far as our hierarchy goes, Mal actually now sits higher than Tony because he is the managing director of the whole club.
"That said, Tony is the reason we are all here."