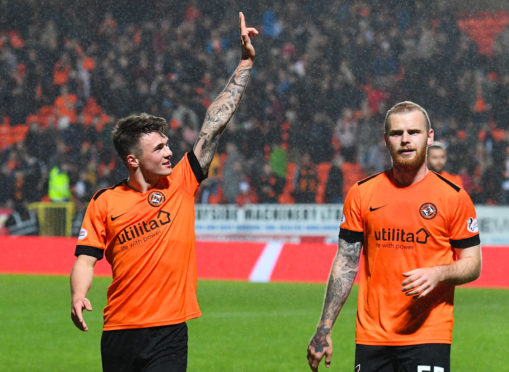 Jamie Robson feels Dundee United must keep setting the pace if they are to lead from the front in the Championship.
Eyebrows were raised across the land at the convincing nature of the Lawrence Shankland show, with the striker's four goals against Inverness at Tannadice on opening day confirming United mean title business this season.
Robson agreed it was impressive stuff against ICT but he knows they must win again away to Partick Thistle tonight to keep the ball rolling.
The left-back said: "Last season, we were chasing Ross County all the time it seemed but we want the team at the top to be us this time around.
"Having spent so long in second spot last year we know how hard it is to chase a side that wins week in, week out.
"So we have to keep winning games and building up our points total.
"It was a great start to the season for us.
"There were so many good performances all around the pitch.
"We had so many positives to take from it.
"OK, Inverness did score once but the response to their goal showed we meant business because there was just a minute or two between conceding that goal and regaining the lead.
"That kept the momentum going and it was top-class display from the lads.
"To win 4-1 against Inverness is a statement because they are a good, physical side," he added.
"For us to beat them like that on the first day of the season does mean we have put a marker down.
"We must keep it going against Partick though.
"It is all about momentum.
"Everyone has to stay concentrated for every minute of every single game.
"We must also work hard as a team and be there to support each other. I'm sure that will be the case against Partick."
Robson joined his teammates to view the Inverness match and he confirmed the story still had a happy ending.
"We have looked back at a video of the game and I must say Shanks still scores four goals so that was good!" he joked.
"There were some things we can work on but we will do that and be ready for the Partick Thistle game.
"I do think we can get better and stronger every single week as all the players gel together.
"Hopefully, we can progress together and win the league this time."
Unsurprisingly, Robson is enjoying being able to look up and see Shankland waiting when he prepares to deliver a cross.
He said: "He is really clinical in the box.
"If you put a good ball in then you know that he will be on the end of it.
"Even if it's not a good cross he will find a way to get to it and make it look like it was meant.
"He is a good player and if he keeps scoring you get the feeling that we'll be fine."
Robson was used at left-back by manager Robbie Neilson against ICT as the Tangerines went with a 4-4-2 formation.
He has also operated in midfield, of course, and is willing to be flexible.
"I grew up playing left-back so I am comfortable but I obviously played left midfield a fair bit last season," said Robson.
"I am happy as long as I'm in the team."
Robson has respect for Thistle, who have had their fair share of off-field problems to deal with in the build-up to tonight's match.
He added: "They are a good side who have made a few good signings.
"It is a hard place to go and I'm sure they will be right up for it with United coming to their ground.
"We will have to play well to beat them."