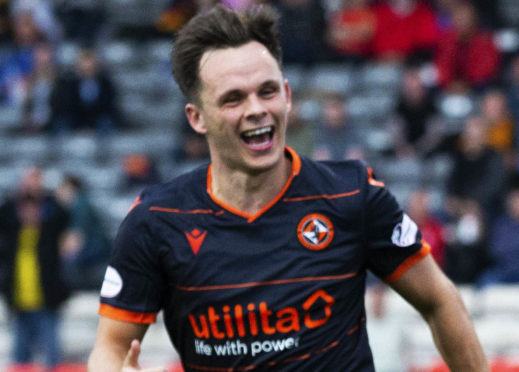 In the return of Talking Football, Courier sports writers Neil Robertson and Eric Nicolson assess the early signs in the Championship title race and the dreaded S word gets mentioned in connection with St Johnstone.
Get used to a season of Dundee and Dundee United comparisons. Which of them should be happier with their start to the league campaign?
NR: At the risk of being called a smarty-pants – or worse – the team with six points on the board will obviously be happier than the one across the road with four. United, of course, have made a perfect start while Dundee could only draw at Dunfermline before Saturday's win over Ayr but there are definitely early reasons to be optimistic for supporters of both teams after the opening fixtures.
EN: It's a tie, I would say. United's first two fixtures have maybe just been harder than Dundee's and (nothing gets past Neil) they have got two more points than the Dark Blues. However, James McPake has basically put a new team together so can be equally happy at four points from six. I'll now get off that fence……
Early days etc etc but have you seen a likely title rival for the Dundee clubs among the rest of the division?
NR: The short answer is no. I still think Ayr, Inverness and Dunfermline will be there or thereabouts this season but considering the squads United and Dundee have assembled, they should be too strong over the course of the campaign.
EN: The off-the-field issues for Partick Thistle are a big bonus for Dundee and United. With a takeover on the cards a couple of months ago, they were shaping up to be contenders. It doesn't look that way now, though. Hopefully the Pars will sustain a challenge but the play-offs are their realistic goal. Ayr will be mid-table at best and that just leaves Inverness, who look weaker than last season. That's a long-winded way of saying the Championship could well be a two-horse race.
Lawrence Shankland is the obvious difference between United of last season and United of this. Can you see any other significant upgrades?
NR: Young Louis Appere up front has made a big impact with me while Sam Stanton is starting to be more influential in midfield. Paul McMullan is another who has impressed but he needs to supply even more ammo for the prolific Shankland from the wide areas.
EN: This wasn't a summer of transition at Tannadice for a change, which is a good thing. Liam Smith is an improvement at right-back but Adrian Sporle has been far less convincing on the other side. I would have liked to see another centre-back recruited to increase options in that area, I must say. Joe Shaughnessy would have been my choice.
Is Jamie Robson turning into the player who was attracting attention from the likes of Southampton a couple of years ago?
NR: He has certainly started the season well and deserved his man-of-the-match award at Partick on Thursday night. Incredibly, Robson made his debut for the club four years ago but it is worth remembering he is still only 21. The early signs so far though would suggest that this could be the season he finally lives up to his undoubted potential.
EN: I thought he was very good in the second half on Friday night. And he has a lot of the attributes managers like in a modern-day full-back. Maturity and good management from Robbie Neilson may yet produce a player who can fill a problem position and make the club some money.
What did you make of Kane Hemmings' debut and can he do for Dundee what Shankland looks like doing for United?
NR: Apart from score the goal you could tell he so desperately wanted, Hemmings can be pleased with his second debut for the Dark Blues. His capture, despite interest from other clubs here and down south, is an undoubted coup for Dundee. He is a different type of player to Shankland but, yes, I can see him having a similar impact.
EN: I don't think he'll score nearly as many goals as Shankland (he's already five behind) but Hemmings is probably more of an all-round striker. It will be intriguing to see how he performs without Greg Stewart's service this time.
Three into two doesn't go, of course. Do you expect Andrew Nelson to spend a lot of time warming a bench?
NR: Hemmings will be one of the first names on the team-sheet so if McPake perseveres with a front two then either Danny Johnson or Nelson will miss out. It is a difficult decision for the manager to make especially as the former Sunderland striker scored the winner at the weekend over Ayr. However, it is a "good" headache for McPake to have.
EN: This will be a big test of McPake's man-management skills. Make no mistake, Andrew Nelson left Sunderland for first team action. No striker of his age and capability will be content with an extended run of substitute appearances, if that's how it pans out. Out of the three, I actually think he's the one with the highest ceiling if he fulfils his potential.
United have a week off, which may be no bad thing, but Dundee have a last-16 Betfred Cup tie at Dens to look forward to. What chance do you give them of knocking out Aberdeen?
NR: Dundee's recent record against the team from the Granite City has been dismal to say the least with the Dark Blues tasting defeat in their last 12 games with Aberdeen. However, this is a new team with a new manager so that historical record should count for nothing. The Championship side will start as underdogs but they definitely have a chance, especially if Derek McInnes's side are suffering a Europa League hangover from tomorrow night.
EN: Aberdeen's defeat to St Mirren was certainly encouraging from a Dundee point of view. There won't be many games when the pressure is off for McPake's side this season but Sunday is definitely one. I suspect it will be a narrow Aberdeen win.
We've also got Forfar, East Fife and Dunfermline playing. Do any of that trio have a hope of causing a cup shock?
NR: Forfar have made a fantastic start to the season and have already taken a Premiership scalp in the Betfred when they beat St Johnstone at Station Park. If they perform to those high standards again on Saturday then they could cause another upset against Livingston. As for the Fife duo? Considering the way the two Glasgow giants have started the season, it could be all about damage limitation.
EN: Forfar have become a really strong side in their division, particularly at home. They are the only one of the three with a chance of progression.
St Johnstone won't look back on the Betfred Cup with any fondness, of course. But has their comeback against Livingston changed the McDiarmid mood music?
NR: Absolutely. At half-time on Saturday and 2-0 down against Livingston, it looked like a poor start to the campaign had become a full-blown crisis. Turning that dire situation around could just be the spark that ignites Saints season.
EN: For all their recent success, comebacks like that haven't been Saints' forte in the last few years. This one was much-needed. I've said all along that the pessimists were over-selling the St Johnstone 'crisis' and I still feel that way.
And the million dollar question…..will St Johnstone sign a striker?
NR: Now, if Tommy Wright had a million dollars to spend . . .
EN: I don't think it will cost quite that much and yes, they will. Don't rule out a happy ending to the Stevie May on/off/on/off saga just yet.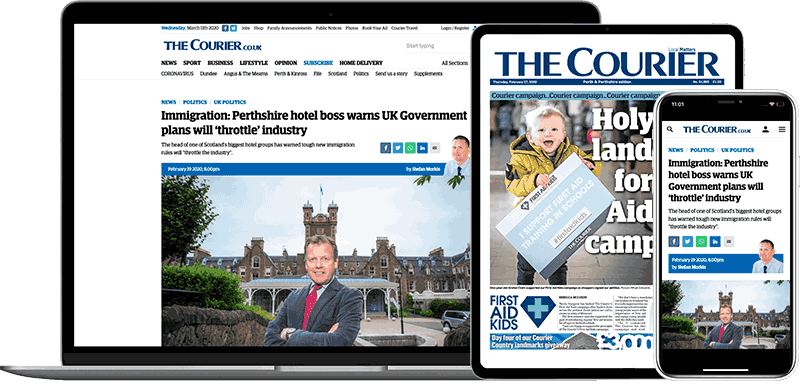 Help support quality local journalism … become a digital subscriber to The Courier
For as little as £5.99 a month you can access all of our content, including Premium articles.
Subscribe