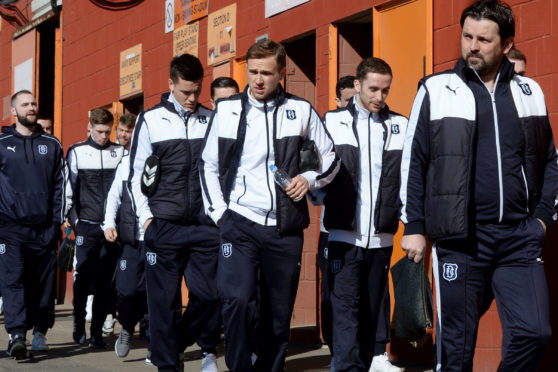 When it comes to the Dundee derby, you can call me a romantic.
Let's face it, I have been called worse things over the decades while covering football matches involving Dundee United and Dundee.
Here, then, is a love letter to one of my city's precious jewels – its football game.
The living legend Lionel Messi said: "If football has taught me anything it is that you can overcome anything if, and only if, you love something enough."
Therefore, we will overcome allegations of Dundonian exceptionalism and instead argue that it really is the best derby in Scotland.
Also, taking our cue from the magical Messi about overcoming adversity, we will gloss over the fact that this game is only taking place because both teams have been relegated to the Championship. That black cloud has gone in a puff of smoke.
Instead, we will revel in what is one of Scottish football's grandest occasions, complete with its rich history and sense of being "different" to the Glasgow and Edinburgh versions.
Talking of which, it is cards on the table time.
I am a derby ultra.
A derby match, in my eminently sensible view of the world, means a contest between teams from the same city or town, with even same region being too much of a stretch for me.
Rangers v Celtic is a derby because they are both from Glasgow, likewise Hearts and Hibs in Edinburgh.
However, I spent years avoiding the abomination of "New Firm derby" to describe United v Aberdeen matches, while – sorry St Johnstone fans – but I have to be dragged kicking and screaming to the laptop to type "Tayside" derby.
My logic dictates that Manchester United v Liverpool is not a derby, neither is El Clasico in Spain between Barcelona and Real Madrid.
The all-Angus and Fife v Fife contests are trickier to ignore but maybe we can invent a new word for them.
Thankfully, we are about to enjoy a true "one half against the other half" derby at Tannadice tonight.
Our acceptance of romance and exceptionalism allows me to proclaim that it is the finest fixture in the land. The city is special and so is the derby.
Yes, there really are wives who kiss their husbands goodbye before heading into different ends of the stadium, she draped in dark blue and he in tangerine – or vice versa.
Children living under the same roof will have different allegiances (hence the colourful and varied washing lines), while a group of mates will split in half and either go left or right when leaving the pub on their way to Dens or Tannadice.
Those same pals will meet up for a drink later – OK, maybe one or two on the losing side will prefer the bus home – to either gloat or grumble.
For goodness sake, the opposition players walk to the game from their own ground. Where else does that happen?
This is a romantic view but that does not mean it is isn't true.
Of course, the city is not without sectarianism, bigotry or any of the other ills that shame Scotland too often.
For many Dundonians struggling to make ends meet, life is tougher than in almost any part of the country. We don't hide from our battles against poverty or anything else here in this hardiest and most resilient of towns.
That sparkling diamond – its football fixture – is, though, as much a source of civic pride as the V&A because it portrays the city in a glowing light.
It brings out the best in the place.
It must be noted, of course, that there has been a threat to that derby ambience in recent years, with social media and messageboards providing a platform for healthy rivalry to spill over into ridicule of the other or even hatred.
There has always been room in Scottish football for slagging off your rivals. For example, there were plenty of barbs and banter when both teams endured their respective relegations. Schadenfreude, that old Germanic pleasure to be taken in another's misfortune, is alive and well in Fintry, Kirkton, Lochee and the Ferry.
The nastiness that can be found elsewhere, though, does seem to be in shorter supply by the Tay.
There will be a capacity crowd at Tannadice this evening, numbering just a few short of 13,500. That represents one in 11 of the city's 148,700 population.
To put that fabulous figure into some context, a similar ratio of spectators per population would see Aberdeen play in front of 20,000-plus crowds.
It is safe to say then, that United and Dundee fans still love derby day despite their sides dropping down a division.
Indeed, the fact that a Championship game will attract such an audience inside the stadium despite being shown live on TV is a huge compliment to both clubs and their supporters.
I was once asked on to national radio to chat about the return of the Dundee derby to Scotland's football calendar.
It was back in August 2012 and there had been a seven-year gap between that derby and the previous competitive one, with the Dark Blues finally making it back into the Premiership as Club 12.
After a clichéd question or two about there being more pehs eaten than usual etc, I mentioned the tangible value the football clubs bring to the city and its people.
In particular, I declared how much it meant to me as a Dundonian to have two teams operating in the country's top flight (it was one of only two Premier derbies that season, the other being in Edinburgh).
I can't boast about that this time, sadly, as this match finds the teams fighting to get out of the Championship and back where they – and I – feel both belong.
It will still be special, though.
We derby romantics will love every minute – the build-up, the action and the post-match reaction.
Enjoy the game.