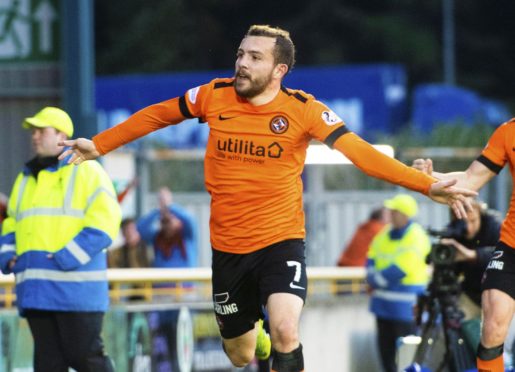 Paul McMullan believes the Tunnock's Caramel Wafer Cup took the biscuit by halting Dundee United's derby momentum.
Ideally, the Tangerines would have liked to have followed up their 6-2 win over neighbours Dundee with another Championship match as soon as possible.
Instead they have had to wait 15 days, with the confectionary-sponsored Challenge Cup taking place during the international break.
A much-changed United team lost on penalties at home to Arbroath and now they have to pick things up again on Saturday when they travel to Somerset Park to play Ayr United in a second versus first league clash.
McMullan said: "The cup has kind of broken it up a bit for us.
"It was a bit inconvenient, to be honest, and it's not the greatest cup as it is.
"It kind of broke up our momentum but we are determined to pick up where we left off after the derby.
"Hopefully, we can keep our winning run in the league going down at Ayr.
"There have been breaks in the season already but I suppose they keep you fresher and you get extra time to recover if you have been carrying a wee knock or whatever."
The game against the Honest Men will mark the return of United's goal machine Lawrence Shankland to his former club.
McMullan has loved playing alongside Shankland, joking that he just has to hit him with the ball and it will go in.
The wide man said: "It is brilliant.
"You just need to get it into the vicinity of the 18-yard box and the ball usually hits him and goes in!
"I think he scored six goals against us last season so it will be great that he is not up against us this weekend and hopefully he can get one for us this time.
"I would also say big Louis (Appere) up front has been great as well.
"He has been in threatening the opposition from behind Shanks.
"He came in for pre-season looking really sharp and has carried it right through.
"He has been really, really good and has maybe gone under the radar a wee bit because Shanks has been scoring all these goals. Louis has been really good for Shanks and I'm sure he would agree with that.
"When you have guys like those two inside the box – every half-chance has been going in recently – it's always nice.
"It makes it that bit more difficult for defences when you have two guys like that up there. I think the pair complement each other."
McMullan was asked if the players themselves were surprised by their perfect start to the league campaign.
He replied: "No, I wouldn't say surprised is the right word.
"We looked around at the quality we've got and it has been really pleasant to see that we have been able to put that on to the pitch in the first four games.
"We need to continue doing that though.
"We have also added more quality in the summer which has helped us again.
"We hope to get a consistent run going and perhaps pull away.
"You are playing with guys and you know what they are going to do before they do it.
"That is obviously a real help when you have that understanding.
"The players are on the same wavelength and that's a great thing."
McMullan is expecting Ayr to really test the Tangerines on Saturday.
He added: "They were difficult to play against.
"They are direct and make the game really physical. You don't really get a minute on the ball.
"So you have to be ready to go against them and if you are not at it 100% then you will get beat."