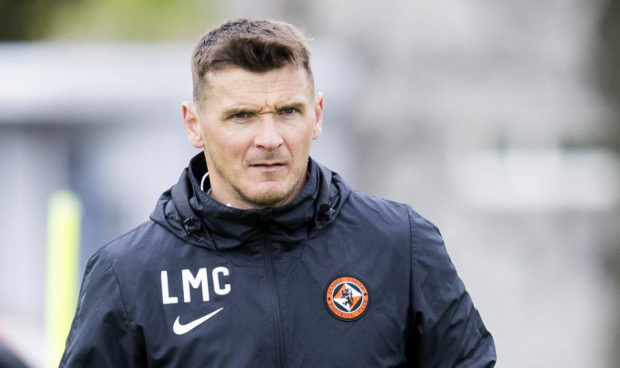 Dundee United coach Lee McCulloch believes a decision taken in the wake of the St Mirren play-off loss was behind their incredible comeback.
The Tangerines looked down and out as Saturday's match against Arbroath at Tannadice reached its 88th minute with the Lichties 1-0 ahead.
Two dramatic goals from star striker Lawrence Shankland later and Robbie Neilson's players were celebrating still being at the top of the Championship.
McCulloch thinks it was the strategy to add greater mental strength to the squad – drawn up after missing out on promotion for a third time – that paid off.
He said: "We had a meeting at the end of last season when we were all still hurting from the St Mirren game and we decided that recruitment-wise we were going to be looking at mentality.
"It had to be like that.
"We wanted to see what people were like away from the pitch too.
"I think it has worked so far.
"I think some of the players we had last season in the dressing room wouldn't have had the mentality to kick back like that against Arbroath.
"We still have boys bedding in to the squad but, of course, Shanks has hit the ground running.
"The challenge for players is coming into an environment where you are expected to get better every day.
"As a team and individuals – coaching staff as well as players – we are all trying to get the best out of ourselves that we can.
"That comes from working environment where you don't have any big egos. It is about hard work every day and knowing that we should reap the rewards at the end of the season if we stick to it.
"I still feel we can get better as time goes on.
"Over the winter months is a tough period for any team so that will give us a mental and physical challenge.
"We are prepared for that though.
"The atmosphere at the club on the training ground and in the dressing room is really good so we just want the games to keep coming."
One of United's brightest prospects is Louis Appere and former Rangers and Scotland player McCulloch feels the Tannadice frontman has more about him at the age of 20 than he had himself.
He said: "I think he is a wee bit better than me, to be honest!
"I would say that, especially at the age he is at.
"I am a big fan of Louis. He has the pace, ability and the stature.
"I can only see him kicking on.
"We are all working hard with him every day.
"He comes in and does his daily video reports with the staff then gives us feedback on the positive and negative aspects of his game. That is something we are trying to do with all the young boys.
"That means they are self-learning as well as having us passing on our advice.
"He has a fantastic attitude and it's pleasing that he wants to sign a contract and work with us.
"He must feel that he is getting great support from the fans and the club. "
Appere has worked well with Shankland but, ideally, McCulloch would like to see him and the rest of the team help the former Ayr United star out with more goals of their own.
McCulloch said: "Everybody is talking about Shanks and rightly so after getting those two goals but I also think the midfielders deserve enormous credit.
"The build-up play and balls in for both goals were excellent.
"I think Shanks has grabbed the headlines but I would prefer the credit to be spread about the team for the fightback.
"That's just football – the goalscorers get all the headlines.
"Shanks is big enough and ugly enough to deal with the pressure that comes with starting the season so well.
"He has looked as if it has not fazed him.
"As a coaching staff, you do want goals to be spread around the team and that will mean centre-halves converting from setplays, midfielders chipping in and wingers nipping in at the back post to score.
"In an ideal world you would like that and we had that in the Dundee derby.
"That was the perfect scenario so hopefully we can get back to that.
"I don't think, however, that we can take anything away from Lawrence and play down how good he has been considering every new singing is a gamble.
"He has been perfect for us so far."
The Tannadice men have had to rejig things in their central defence, with midfielder Calum Butcher playing there again on Saturday.
McCulloch revealed that new defender Troy Brown is available after attending the birth of his child in England, while the club are still awaiting the results of Mark Connolly's second scan.
McCulloch said: "Troy is back in training so it's congratulations to him.
"Everything went well with the baby and now it's back to hard work for him and getting match fit.
"Troy is a great talker on the pitch and good, aggressive player so it's nice to have him back."
As for news on Connolly, the Tannadice coach added: "There has been nothing back on that yet. We are still waiting.
"Hopefully that is going to be good news.
"Mark is pivotal not just on the pitch but in the dressing room too. He is a winner.
"He has proved that in the past and we need all our big players and big personalities fit.
"As soon as he gets back the better."
Meanwhile, Nicky Clark may miss out against Morton just as he did against Arbroath.
McCulloch said: "Without going too deeply into it he was nursing a bit of an injury.
"He might be back this weekend but if not then hopefully it won't be too much longer.
"It's nothing too serious and he is another big player for us."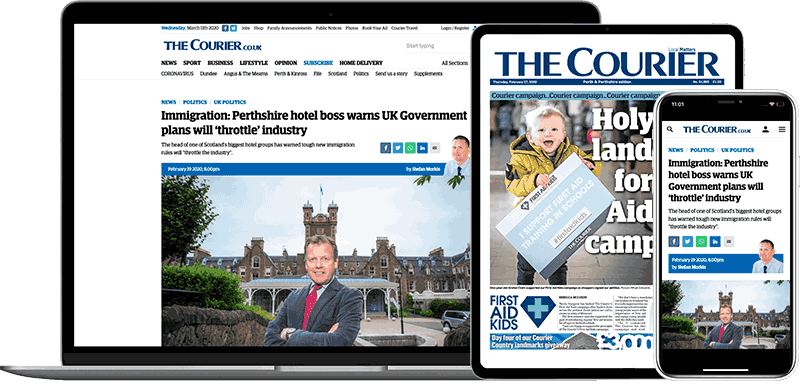 Help support quality local journalism … become a digital subscriber to The Courier
For as little as £5.99 a month you can access all of our content, including Premium articles.
Subscribe