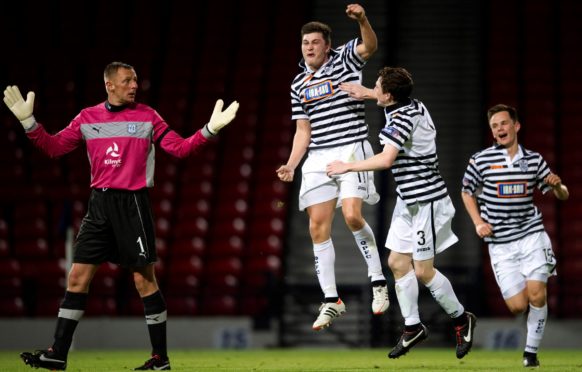 A volley flashed into the net and Sean Burns knew that Queen's Park youngster Lawrence Shankland would go places.
The date was August 4, 2012 and the Spiders were at Firhill – Hampden was being used for the Olympics – to play a home League Cup first round tie against Airdrie.
The Diamonds were leading 2-1 with just a couple of minutes left on the clock when a corner came over from the left. The ball was headed upwards and hung in the air nicely for Shankland, who smashed it first-time into the far, top corner to send the match into extra-time.
The 16-year-old was mobbed by his teammates, including the now Forfar player Burns and Andy Robertson, a future Champions League winner and Scotland skipper.
Queen's Park would go on to win 3-2 in the extra period before memorably beating Dundee back at the national stadium in the next round.
Burns, who spent eight enjoyable seasons with the amateurs, had always expected Shankland would make something of himself.
He is delighted that his goals for Dundee United have taken the striker all the way to the Scotland squad for this month's Euro 2020 qualifiers against Russia and San Marino.
He said: "I don't know what Lawrence will thinking right now – it must be a bit surreal for him.
"There is absolutely no doubt in my mind, though, that he deserves this because he has been in unbelievable form.
"To build on what he achieved at Ayr United at Dundee United – a side that probably should be in the Premiership – is fantastic.
"The game I remember best is when he scored his first goal for Queen's Park as a 16-year-old.
"It was against Airdrie at Firhill in the first round of the League Cup.
"He scored a brilliant equaliser a couple of minutes from time to take the game to extra-time.
"Lawrence had only been on the pitch for a few minutes as a sub but he composed himself, arched his back and then sent a superb volley into the opposite corner. It was perfectly placed – the only area of the net that the goalie just couldn't get to.
"We won that tie in extra-time and went on to beat Dundee 2-1 in the next round, thanks to a late winner from me!
"I'm not just saying this because he has been called up but you knew even back then that Lawrence would go on to be a great player. You just didn't know how far he would go and he is still young at 24."
Burns has also, of course, cheered the meteoric rise of Robertson and feels there is one man, in particular, who deserves a mention for bringing both the Anfield full-back and Shankland through.
He added: "As an ex-teammate of Andy's, I would admit that is incredible to think that I also played alongside someone who has gone on to win the Champions League with Liverpool and captain Scotland.
"Now that Lawrence is involved at national level, too, it is terrific.
"I would give a lot of credit to our manager back then, Gardner Speirs, because he was always willing to give young lads a game if they were good enough.
"I guess you never really know how teenagers will cope with first-team football until you give them a chance and he was willing to do that.
"It was the same with Andy, Aidan Connolly and Blair Spittal.
"Now Andy and Lawrence will be reunited at the Scotland camp and I am sure they will take a moment to look back on those times at Queen's Park."