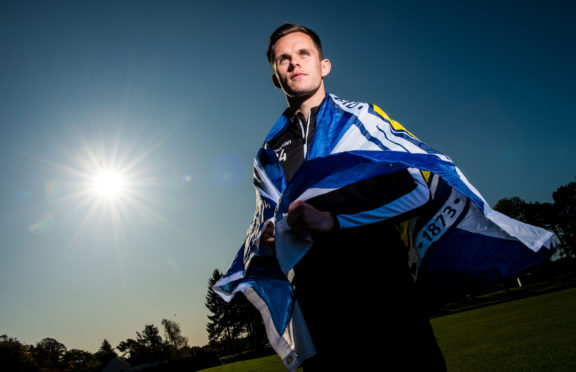 Lawrence Shankland insists he has a "job to do" at Dundee United and intends to see it through.
Shankland has been the talk of the town after being called up by Scotland boss Steve Clarke for the forthcoming Euro 2020 qualifiers against Russia and San Marino.
There is so much interest in him that some United supporters must be worried about being able to hang on to their prize asset.
The 15-goal striker signed a three-year deal in the summer and while it may optimistic and even unrealistic to expect him to see that out, Shankland is happy at the club.
He said: "If people are watching me this season, I'm obviously doing my job.
"Scoring goals will always attract people's attention but I've got a job to do here this season.
"I signed for three years with United in the summer and that's what I'm committed to.
"If and when I do leave, I want United to be in the Premiership. That was part of my objective when I came here.
"The club has ambition to get back into the top flight and be established in that league.
"That's why I signed the contract I did.
"So hopefully we win the Championship or get through the play-offs and be up there next season."
The international recognition is proof that the Tannadice move has worked out well for player as well as club, as Shankland acknowledged.
He added: "In terms of club structure and everything, I did believe this was right for me.
'No disrespect to Ayr but this was a step up, even though we're in the same league, in terms of facilities and everything.
'It was a step in the right direction."
You sense the focus on Shankland getting more intense week by week but he insists he can deal with it.
"It's part and parcel of it," he said.
"If you are scoring goals, people are going to be talked about.
"Believe me, it's a lot better than not scoring goals and having nobody talking about you.
"However, 100% my head is here and I know what I need to do this season.
"I had a bit of it last year, too, while at Ayr.
"If you are doing well, it's going to come and I accept that."
Shankland revealed that, among the many well-wishers getting in touch since his Scotland news broke, there was a message from his old Queen's Park teammate – and national captain – Andy Robertson.
That was fitting, seen as he used to have a screensaver pic on his mobile of him and Robertson from their days together at the Spiders.
He revealed: 'Robbo texted me on Tuesday just to say well done and that he would see me next week.
"We've both taken different routes in our careers.
"I've gone on a right windy road and he's gone on a straight one but we'll both be there next week, both getting there in the end.
!I have actually had a good few messages.
"It's always nice to have people wishing you well.
"I know a fair few boys in that squad from the under-21s, guys like Ryan Christie, Ryan Fraser and John McGinn from my early days. Also, Ryan Jack and Kenny McLean from Aberdeen, too.
"So there are quite a few familiar faces in the squad.
"I have also had calls from (former Ayr boss) Ian McCall and Neil McCann, who I worked with at Dunfermline.
"It is great to know they are all cheering me on.
"In addition, the boys here have been great with me, wishing me well.
"They are not jealous at all – just happy for me. It would be the same with anyone here who got a call-up.
"There are a lot of people I've worked with over the years, a lot of people who have helped me out.
"Deep down, if you work with good people, you want them to do well…and hopefully I've been a good person!"
As for what he hopes to get out of his Scotland experience, Shankland is thinking big.
He said: "I would be daft to not want to get onto the pitch.
"I will go and show what I can do in training, that's all I can do for starters.
"Fingers crossed I get a bit of game time but I know the squad I'm going into and it has Premier League players from big clubs down south – that's really stiff competition.
"There is no way I expect to waltz in and get a game.
"It's going to be tough and I'll need to prove my worth.
"However, if I get the opportunity, I believe I can do that."