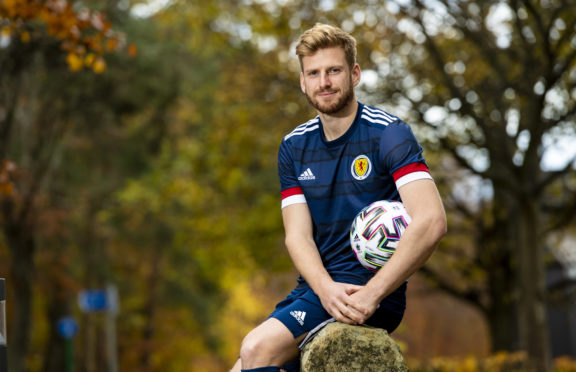 Turning up for Scotland duty wouldn't normally be mistaken for a week-and-a-bit of light relief, especially in current circumstances.
For Stuart Armstrong, whose club side Southampton are second bottom of English Premier League and suffered a harrowing 9-0 defeat on their own ground not too long ago, you could definitely make an exception.
The former Dundee United man insisted, however, that peaks and troughs have been part of his career since his early days at Tannadice and the recent ordeal is just the latest example.
"The Premier League is a very challenging league but a great experience," said Armstrong, who has started three games in a row for Saints in the wake of the Leicester City debacle.
"Every week you come up against different qualities, fantastic players. For me personally, it's been a great experience and I'm really enjoying it.
"Everyone always wants to play games, so to have the opportunity to do that is ultimately why you play football, to make the most of the time on the pitch when you get it.
"It's a different experience, a different challenge. When you go to a different environment, you learn different things about how that works and how you fit into it, what you can improve upon.
"It's been an interesting journey for me so far, not always smooth. It's been up and down, as it always has in my career. At Dundee United and Celtic, there were always ebbs and flows which is how football works.
"But the Premier League is an incredible league and I'm really enjoying it.
"It's a little bit of a different mentality. At Celtic, it was always more dominant, you have a lot more possession. Your aim there is to win the league and the cups.
"In the Premier League, your ambition is to finish as high as possible. Last season at Southampton, we found ourselves not where we wanted to be but came through it and had a strong finish.
"So it's different challenges and different mentality. It's about adapting to that."
Armstrong admitted that he would "rather not" talk reporters through the nuts and bolts of the 9-0. You can't blame him for that.
But it isn't a case of trying to erase it from his mind.
"You could say all sorts of things about it but sometimes it's important as a player, when you get beat, to learn from it," he said.
Armstrong has got plenty of Scots for company in England's top league (even though most of them aren't fit enough to feature for their national team in the Cyprus and Kazakhstan games).
"It's good to see Scottish players going down there," said Armstrong, who even forgot to name-check the likes of John Fleck, Ryan Fraser and Oliver McBurnie.
"John McGinn is having a very good season at Aston Villa, big Scott McTominay is scoring for Manchester United. Of course, Andy Robertson is thriving at Liverpool and Kenny McLean is too at Norwich.
"So it's really nice when you come up against these teams to see a familiar Scottish face. It's good for the country."
Armstrong was a late call-up for the last Scotland squad but no toys were thrown out of prams.
"I don't think I would every turn down the opportunity to come away with Scotland," he said. "Playing for your country is probably the best thing in football for me.
"It's a different feeling from club football. Club football is terrific but playing for Scotland is always a special thing for me.
"It was difficult not being named in the squad initially the last time but I had a good chat with the manager and completely understood the things we talked about.
"It was really nice of the gaffer to explain to me beforehand why I wasn't in that squad. I could have just found out when he named it. We had a good chat and I completely agreed with everything he said.
"It's a great positive to have that relationship with the manager. All the players will be the same. He's just open with us. We are all human beings and can all be spoken to as adults. It's a great thing to be able to speak one-on-one truthfully.
"The Scotland squad should always be picked on form and sometimes when you are not playing as regularly as you want to for your club, you can't really argue.
"But I was delighted to get the call to come back into the squad. I love being here."
He added: "The gaffer has introduced a lot of structure, a lot of defensive-minded ways of playing. Having that structure benefits the team and allows you to have that platform of compactness to build going forward, to stay in the game as long as possible.
"It's been good and he's another manager you can learn from. He's obviously been at the highest level.
"We have two big games in March but we're not thinking about that right now. It's about building on that San Marino performance and making sure these next two games against Cyprus and Kazakhstan are positive, that we get points from them and finish as high in the group as possible."