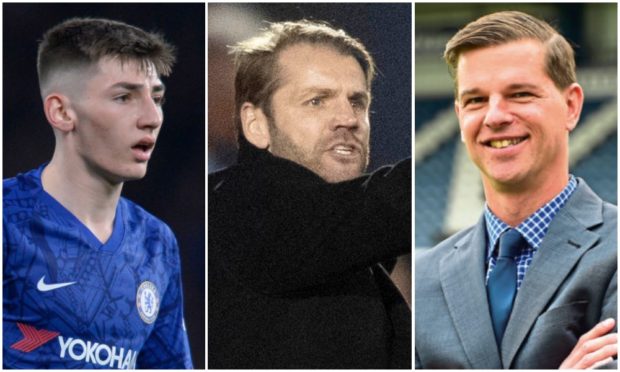 Billy Gilmour must be included in the Scotland squad to face Israel in our 2020 Euro play-off.
The illuminating display in midweek by the 18-year-old Chelsea midfielder, in the 2-0 defeat of Liverpool, proved this is a boy wise beyond his years in footballing craft.
The evidence of remarkable guile and style on a young head, the capability of defence-splitting passes, a calm and collected demeanour in possession, were all in evidence in his sophisticated display, which had his manager Frank Lampard purring about the young Scot.
The suggestions that he is too young are laughable.
A generation of youngsters fought in world wars at his age – all he's being asked to do is show his mettle on a football field.
Every now and then, a player comes along with a maturity that belies their youth. Gilmour is such an individual.
Steve Clarke should draft him into the squad and watch and assess him performing his repertoire in training with the other seasoned campaigners.
He was magnificent in midweek against the best team in Europe.
The time for caution has passed for Scotland, and a bit of Gilmour's gallusness is exactly what the international team needs.
It's time to throw our boring and traditional caution, and fear of risk, to the wind.
---
Some Dundee United fans embrace the motto 'It's never too early to panic'.
United are admittedly in a fug, with one win, two defeats, and three draws in their last six league matches.
However, had supporters been offered a 16-point lead at this stage at the start of the season, they'd have hung the tangerine bunting out.
Their nearest challengers Inverness would be more successful climbing Ben Nevis in straitjackets than catching United, so the moan-fest among a minority of Arabs is mightily misplaced.
Robbie Neilson's side have hit a sticky patch but they still hold an enormous advantage.
There's more chance of me being in Steve Clarke's Scotland squad than United blowing the Championship title.
---
Dundee FC's accounts have some of their fans worried – and they're right to be concerned.
A loss of £1.8 million is no reason to celebrate but Tim Keyes has indicated his ongoing commitment to the club, and his track record in backing the club is impeccable.
Keyes has put his money where his mouth is and, as is with any privately owned football club, can run the club as he wishes.
The Dark Blues' long-term future prospects under FPS, the owners of the club, depend I suspect on a successful conclusion to the new stadium development.
That would allow the football club to thrive under the umbrella of an income generating entity, which Dundee as a standalone football operation cannot do.
While I remain sceptical about the plans coming to fruition, I still think the idea is a sound one and if it can be made to work, it offers Dundee perhaps their only realistic chance to re-join Scottish football's top clubs on an equal footing.
Dundee supporters had their turn at running the club and they failed.
Tim Keyes remains their only real salvation.
Dundee owners are still backing their managers says James McPake as he discusses club's £2 million losses
Major boost for Dundee United as comeback kid Nicky Clark makes early return to training