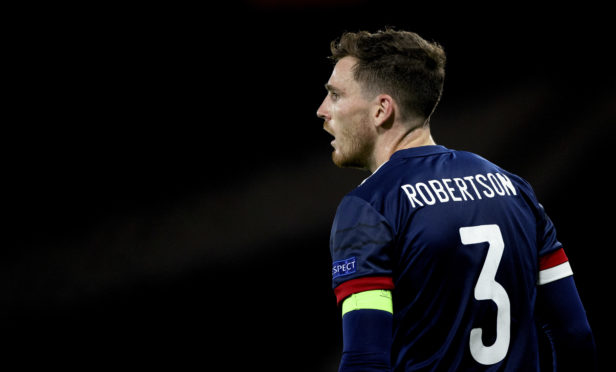 Let's start with the indisputable.
Andy Robertson does not make an equivalent impact with Scotland and Liverpool.
Even the man himself wouldn't find cause for argument in that statement.
Anybody who thinks one of the assist kings of the English Premier League will ever get close to the level of performance he produces under Jurgen Klopp when he's on national duty is deluded.
The man's day job is playing one-twos with Bobby Firmino and Sadio Mane, making himself available for passes from Virgil van Dijk and Alisson Becker and exchanging cross-field diagonals with Trent Alexander-Arnold and Mo Salah.
With the greatest respect to Ryan Christie, Lyndon Dykes, Liam Palmer, David Marshall, Scott McKenna and the other Scotland lads, that is a chasm in class of service and support that will never be bridged, nor can it be expected to be bridged.
As such – and as a left-back, not a central midfielder, centre forward or number 10 – there are limits on how he can effect a game in comparison to say, a peak Gareth Bale, who could drag a distinctly average team to victory from the middle of the pitch with individual skill worth of the 'world class' description.
Robertson is given that tag not because, like Alexander-Arnold, he is reinventing his position. It is because he does traditional modern-day left-back things very, very well.
On Monday night we saw just that.
There were several examples of trademark Robertson quality. However, they came to nothing as a result of the failings of those around him.
The watching Tartan Army probably won't remember it, as they would still have been traumatised by the way in which the Scotland defence was cut open for the Czech Republic's opener, but the first of those examples came a couple of minutes after that goal.
Liam Cooper played a decent long, floated pass down the line from where his captain knocked inside the most exquisite first-time cushioned volley you could wish to see to take out three Czech defenders with one sublime touch. Ryan Christie, though, quickly made a mess of things.
Then, and this was the point 'Andy Robertson' started trending on Twitter, he was made to look foolish by twice being caught offside – first from a John Fleck ball and then from a Cooper one. The truth of the matter is that the fault on both occasions was with the sender for delaying a second too long and missing the passing window, not the receiver who had timed his original dashes perfectly.
Robertson had sensed and seized on the Czech Republic's high-line vulnerability and had every right to be exasperated that others weren't on his wavelength.
The final exhibit was a move five minutes into the second half.
Robertson spun off his marker near the half-way line after laying the ball back for Stuart Armstrong. His old Tannadice team-mate knew what to do next – send a pass into the grass in front of his skipper. The cut-back was on point but Christie couldn't get his shot past a defender, never mind the goalkeeper.
From these four attacks you would reasonably have expected two Liverpool goals.
Factor in the part Robertson played in the Scotland equaliser and the Scotland winner – and that that none of the second half panic or first half slackness was in his area of the pitch – and you have a good overall performance.
And it's the sort of performance fans will just have to accept.
Robertson has occasional poor games for Liverpool and he has occasional poor games for Scotland, Friday night against Israel being one of the latter.
The difference isn't in the magnitude of the drop-off. It's the starting point.
With the quality of players around him at Anfield, it generally equates to excellent slipping to good. With the quality of players around him at international level, that fall-range covers good to OK.
Robertson is bringing his club game to Scotland. The unfortunate bit is, so are the rest of the team.
ERIC NICOLSON: The banana skin was avoided but Scotland haven't progressed in September double-header