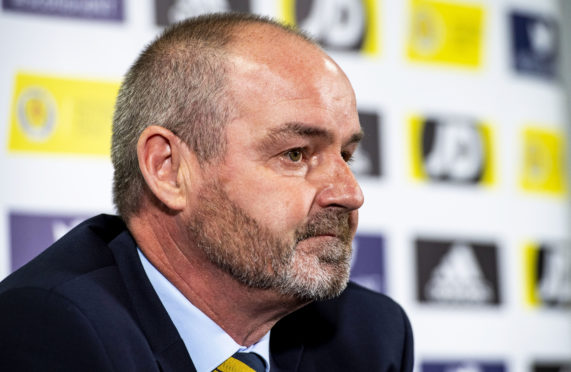 Steve Clarke made no attempt to diminish the importance of his Scotland team's next game of football.
To his disappointment, the national stadium will once again be empty for the visit of Israel in eight days' time.
But the prospect of getting through to an all-or-nothing Euro 2020 play-off final will have his squad full of excitement, motivation and determination.
There will be Hampden Park Nations League clashes against Slovakia and the Czech Republic to follow but next Thursday night's clash with Israel is the defining contest of this international triple-header, and potentially the defining contest of a generation.
"It's one that's been building for a long time," said Clarke. "It's been on the cards for over a year now (the place in the play-offs was secured by his predecessor, Alex McLeish). We always knew this game was going to be the big one.
"So finally it's almost here and I think the players are looking forward to it because they've had such a long wait and the tension has been building all the time. It'll be nice to finally prepare for the game and then get to play it."
The players do not need to be reminded that the chance to be heroes and history-makers is now at their feet, first against Israel and then either Norway or Serbia.
"Yes, this is an opportunity for them to write a little bit of history," said Clarke. "To write themselves into history and create history for Scottish football.
"It would be a great achievement and we are all aware of how much it means to everybody. The players are especially aware because they all want to be involved in a major final as all these guys play at the top level.
"I played at the top level but I didn't get the chance to represent my country at a major final so if I could do it as a manager it would be great. But it's the same for the players. They know every tournament that passes us by without qualification is one tournament closer to the end of their careers.
"So we have a good squad, at a good age and we're starting to pick up a lot of experience and international caps. But it does get to the stage where you have to say: 'Come on, it's time to qualify'. Hopefully this will be it."
The first Scotland game of this season against Israel a few weeks ago was also the first time the national team have played in a Tartan Army-less Hampden. It was a sterile experience and seemed to inhibit their performance. The higher stakes should ensure a higher tempo this time around, though.
"It's definitely not ideal but it's one of the unfortunate circumstances surrounding the situation we all find ourselves in," said Clarke.
"The crowd won't be there but they'll be watching in other ways, hopefully safely and socially distanced.
"They won't be there in body but I'm sure they'll be with us in spirit so we need to make sure that, come next Thursday night, they've all got a smile on their face.
"I think players in general, not just our group, like to perform in front of a crowd. It's probably no different to an actor or actress in the theatre. The reason you want to be on the stage or on the pitch is to perform in front of people.
"Football without fans can be difficult. Listen, there's been a lot of good, exciting games behind closed doors but without the fans and the passion they bring, it's just not the same. We miss that.
"But we have to make sure we are intense because we understand the magnitude of the game and what it means to everybody. We are all determined to make sure we get the right result.
"I expect the performance levels will be higher because we went into the last camp with a lot of players who hadn't even started the season. Everyone is now up and running, they've had lots of training sessions and lots of matches so I'll be expecting us to have a better performance in the three matches coming up."
There are no new faces in this Scotland squad, with Clarke trying to replicate the continuity of a club environment as closely as he can, particularly in a condensed and busy spell of international football such as this.
"The squad is evolving and the experience they are picking up as they go along is really important," he said. "But when we lost heavily to Russia everyone said we had to make sure that was the low point. That we had to build from that.
"Well, we've managed to do that by going five games unbeaten and in four of them we were victorious. So we are in a good place and the players understand more about international football the more often they play.
"You can see I've tried to keep a consistency in selection in the squad. For this one, 13 of our players will be involved in club games on the Sunday which means we don't have a lot of preparation time.
"But because we've been together in a number of camps with the same players – not one of them hasn't been with us before – so they understand the ideas and the principles of what we are trying to do and they understand what it takes to win international matches. And that's what we have to do next Thursday night.
"I wouldn't go as far as calling them the 'chosen group' but it's also nice to bring up one or two of the youngsters like Robby McCrorie in the last camp and young Ryan Porteous comes up this time. It's nice to add one or two to your core group and try to blood them into the squad for the future."
https://www.thecourier.co.uk/fp/sport/football/dundee-united/1613731/dundee-united-striker-lawrence-shankland-will-want-more-scotland-goals-says-steve-clarke/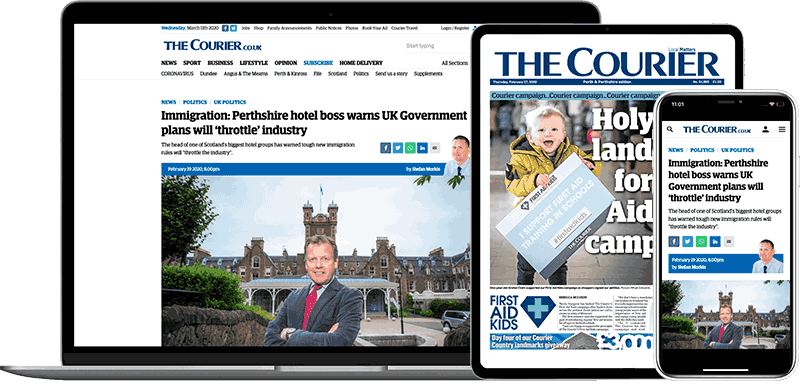 Help support quality local journalism … become a digital subscriber to The Courier
For as little as £5.99 a month you can access all of our content, including Premium articles.
Subscribe