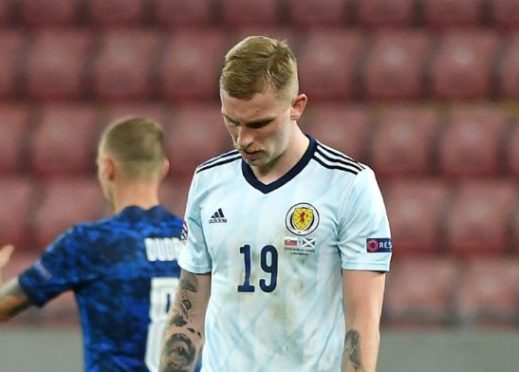 Maybe it was always destined to be this way.
From the moment he was embroiled in Scottish football's answer to the killing of Bambi's mother, Oli McBurnie has had to fight harder than most to justify himself in dark blue.
Back in 2015 when it came down to a choice between a Real Madrid wonderkid and a non-league grafter for the final place in his squad for an under-19 Uefa tournament in Austria, Ricky Sbragia opted for the latter.
Indignation was heaped upon the selector. How dare this coaching Luddite drag our game back into the dark ages by overlooking a boy with a five-year deal at the Bernabeu just because he was better using his brain and his feet than his elbows and his shoulders.
It also brought a bright spotlight upon the poor lad on loan at Chester City whose inclusion came at the expense of Scotland's answer to Zinedine Zidane.
McBurnie got caught up in a heated national debate then and has remained a polarising character ever since.
There are two parts to it with the man of the under-sized socks and shin pads and the over-sized facial hair and chutzpah – the off-field stuff and the on-field.
With the former, he probably hasn't helped himself.
A year ago Chris Wilder may have tried to dismiss as banter his player being captured saying to club team-mate, John Fleck, that he hoped he wouldn't get called up by Scotland. But it wasn't just the hardened cynics who raised an eyebrow at that explanation.
A sceptical stance has thawed for some in the Tartan Army but not others.
Analysing McBurnie's Twitter output would keep a psychologist busy for a few hours but even a layman can question the wisdom of having a pop at a pundit (Michael Stewart) a few hours after being part of the greatest night for the national team in over two decades.
Put a glass of water next to your bed and go to sleep.
Then there is the Rangers-supporting thing, which has peaked/hit rock bottom with a trending screengrab of McBurnie supposedly not participating in Scotland's Belgrade huddle ahead of the play-off final penalty shoot-out.
Count me out of that witch-hunt.
A professional footballer letting his mind drift to thinking 'this is all a bit too Celtic' in the build-up to the most nerve-wracking experience of his career? Sorry, not for me.
And maybe those happy to indulge in the social media pile-on should consider the possibility that he was either in his way into or out of the huddle at the point the footage was paused.
Why did you not participate in the huddle? pic.twitter.com/3llkF897wN

— Connor (@_CLMike_) November 12, 2020
Anyway, all of the above is a side-show.
It's the football that matters.
And on this front, debating McBurnie's worth is perfectly valid.
Any striker who has played 14 times for his country without scoring, and has butchered a couple of glorious opportunities in his most recent appearance, is quite correctly the focus of attention when minds are turning to who will make Steve Clarke's 23-man squad for the Euros next summer.
McBurnie's skillset is a very limited one.
He isn't a natural finisher – Leigh Griffiths, Lawrence Shankland and probably a few others who won't ever get near to a Scotland cap are all more clinical.
The first touch doesn't scream international footballer either.
But none of that really matters to Clarke.
When Lyndon Dykes is unavailable, McBurnie is the nearest thing the Scotland head coach has to a like-for-like replacement who will make the selfless runs to pull centre-backs out of position, occupy them in physical duels, win a few headers and create space for others more reliable at finding a corner of the net or unlocking a defence.
It is the system and the tactics as much as the individuals that have got the Scots to their first finals in a generation and neither Griffiths nor Shankland possess the sort of quality to force you to rip up a whole strategy to accommodate them.
Clarke is of the opinion that a Dykes-lite option is the best one for a Dykes-less team.
Once you accept that, you'll appreciate that similar mould alternatives are thin on the ground.
The only player with comparable physical attributes is the other Sheffield Oli. But Burke is even rougher around the edges than McBurnie.
Fraser Hornby fits the profile and is scoring goals for the under-21s but he has yet to start a game in Ligue 1 for Stade de Reims and won't be ready for the jump in class by June.
You can tell that Clarke has made his peace with the sacrifices that go with playing one of those 'he brings more than goals' number nines.
Remind him about the weak header at the Slovakian keeper and the failure to pull the trigger quickly enough in the first half in Trnava and he'll throw right back at you many examples of McBurnie getting his side up the pitch and bringing team-mates into play.
He might also tell you to go and watch back the recent Liverpool v Sheffield United game at Anfield.
McBurnie was the most effective of all the Blades attackers against the Premier League champions last month. The list of strikers with bigger price-tags and even bigger egos who have failed miserably to get close to doing that over the last couple of years is a long one.
It will be intriguing to see and hear how Scotland fans react to a typically crude McBurnie performance when they are allowed back into Hampden Park.
They certainly weren't turning against him in Brian McClair, Gary McAllister of Chris Martin-type numbers pre-lockdown and I suspect they'll stick with him after it.
And so they should.
Aside from the fact that every footballer who puts in his level of commitment deserves unqualified backing, he is rated highly by the man who matters most.
Of all the fringe players who don't get into the Scotland starting line-up when Clarke has a full squad at his disposal, McBurnie's place at Euro 2020 is probably the most secure.
Oli McMarmite is here to stay.
Scotland analysis: Steve Clarke knows importance of unbeaten run and importance of an Oli McBurnie goal