It wasn't only Ronny Deila whose reputation was tarnished by Brendan Rodgers and his Celtic team on Wednesday night.
Gordon Strachan's out of 10 rating for the Euro 2016 qualifiers had already been retrospectively downgraded on the back of so many countries doing perfectly well in the finals without the star man Scotland's national coach is forever reminding us we don't have.
And Rodgers' big game faith in Leigh Griffiths, and the performance of the man himself, should see another mark getting taken off.
A six or seven is now looking like a four or five.
Strachan didn't trust Griffiths in the Euros.
Steven Fletcher's form had deserted him but game after game he was preferred over Scotland's most lethal finisher.
And, on the night when it all went wrong in Georgia, Griffiths got just 15 minutes and barely a kick.
Strachan is a one up top man and his loyalty to Fletcher in the face of Griffiths' strike-rate spoke of a manager who believed the older ex-Hibee's all-round game was superior to the younger one's.
He might say that it has been post the Euro qualifiers that Griffiths has grown into into the striker who played on his own through the middle against Hapoel Be'er Sheva, brought others into the game and was clinical in front of goal.
Others would suggest he was perfectly capable of that level of performance a year ago.
Anyway. New dawn and all that. The World Cup qualifiers begin in Malta at the start of next month, the squad for which will be announced today.
But Strachan stubbornness in the face of overwhelming evidence is not allowed.
Griffiths can do pretty much everything Fletcher does and a good bit more. The 2016/17 Scotland team needs to be built around him.
* I'm amazed it has taken this long for the "who's picking the Hearts team" story to gain momentum.
It's not as if all of a sudden they've become this physical, direct, confrontational side that people are lining up to pigeon hole as classic Craig Levein.
Granted, they were a bit easier on the eye in the Championship but from the moment Hearts were back in the top flight, anytime I've seen them, they've fitted the description.
I suspect Levein's influence is greater than Robbie Neilson has acknowledged and if it is, they should have laid that out from day one. But it really shouldn't matter.
It's up to Hearts to run their club as they see fit and only on the British Isles would it be seen as an issue.
* "I have my doubts, let me say that."
Laura Muir's response to the question, could the result of her Olympic 1,500 metres final be trusted?
Everybody else who has a passing interest in athletics will share your doubts Laura.
But why stop at the 1,500m? I'd give the same answer to every track and field event at the Games.
From the 100 metres to the marathon, clean or otherwise, all runners, jumpers and throwers compete in a sport that is now so tainted by cheating that credibility won't be regained at the Tokyo Olympics or four years after that.
It will take more than a Russian ban to sort out this one.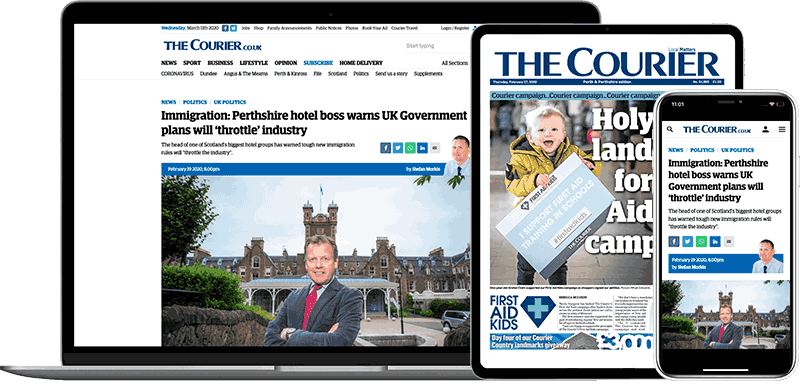 Help support quality local journalism … become a digital subscriber to The Courier
For as little as £5.99 a month you can access all of our content, including Premium articles.
Subscribe