The international football season is now over for Scotland, with Saturday's draw against England just about keeping World Cup hopes alive. Here are five questions to ponder before the campaign resumes in September.
What has happened to Robert Snodgrass?
It was a job left vacant for six years after James McFadden earned the last of his caps – Tartan Army Talisman. Even before his hat-trick against Malta to get this World Cup qualifying campaign going, Snodgrass ticked all the boxes to become the new darling of the terraces. Chequered past but back on the rails. Skilful but hard-working. Not scared to go it alone but a team player. A bit daft. When Snodgrass scored those three goals in September he was a proven English Premier League performer who was establishing himself as an international game-changer, spoken about as Scotland's answer to Dimitri Payet. Truth is, Snodgrass's Russia 2018 journey peaked on day one. He has since struggled to make an impact on a game like he did in Malta. Several good set-piece opportunities were squandered with poor delivery at Wembley and when the Scots were chasing the game against Slovenia, an ineffective Snodgrass had been substituted. It was a similar story on Saturday, with an uncharacteristically poor touch letting him down on this occasion. Snodgrass hasn't been the same player at West Ham that he was at Hull and if he doesn't start getting a regular game in London (or elsewhere if rumours that he is on his way are true) he may not even be a starter for his country in Lithuania, just 12 months after his finest moment, never mind a talisman.
Is goalkeeper now a problem?
This isn't a question that has been asked for many a year. If there has been one position where Scotland has had strength in depth it was goalkeeper. Craig Gordon, Allan McGregor and David Marshall have all been number one at some point, with competition from one or both of the others to keep them honest. After being dropped by Brendan Rodgers, Gordon enjoyed an excellent season for Celtic (who didn't?) but there is a nagging suspicion that he is now saving his worst for European and international football. There were some excellent saves against England but Gordon was at fault for both goals in a lot of people's eyes and he continues to look unconvincing under a 'should he come, shouldn't he come' cross ball. What about the other two? It wasn't that long ago Marshall was regarded as the best keeper in England out with the Premier League. That was before a move from Cardiff to Hull, where he was dropped mid-season. His future is unclear and the same can be said of McGregor, whose serious injury ironically saw Marshall being brought in to replace him at Hull. The former Rangers man was loaned to Cardiff and did well at the back end of the season but they can't afford his wages. It is possible neither will be playing first team football when the Lithuania game comes round, making Strachan's decision to stick with Gordon an easier one than it should be.
How many points do Scotland need to finish second in Group F?
If Scotland win their last four games they will almost certainly get second spot and will have done enough to not be the unlucky loser that doesn't make the play-offs. Three wins and a draw could just sneak in as well. One result that is non-negotiable is a victory in Lithuania when the group resumes in September. The two nations above us, Slovenia and Slovakia, meet on the same day. Scotland have Malta as the other half of a double-header and it would be reasonable to assume that 15 points will be the second-place mark after that round of fixtures. Two wins for Scotland will take us to 14. History would suggest that the sort of catch-up Scotland are playing rarely has a happy ending but Ireland's perfectly-timed qualifying race for last year's Euros shows it can be done. Scotland are definitely not without genuine hope.
What next for Leigh Griffiths?
Hopefully a regular game for Celtic. The last thing Gordon Strachan will want is his new-found Tartan Army hero to be sitting on a Celtic bench for the first few weeks of next season. Before Saturday a Scottish shirt, be it the pink against England at Wembley or the blue against Slovenia, seemed to weigh heavily. Given rare starts in both he was shooting when he should have been passing and missing when he should have been scoring. The wait for a goal was looking like burden. There will be no such burden when next he plays for his country. Griffiths is the best natural finisher Strachan has available by some distance and now he's adding the other bits to his game that managers demand from a lone frontman. Griffiths is no Gareth Bale but he's a few notches above Kyle Lafferty. Both Wales and Northern Ireland needed seven goals from their main men to get them to Euro 2016. If Griffiths can reach that mark with five more in Scotland's last four games, there is every chance we will be in the play-offs.
Is Gordon Strachan more secure in his job?
Bar one story about David Moyes being in pole position to succeed him, there was far less debate about Strachan's future during last week's build up to the England game than there has been throughout this qualifying campaign. A point that was so nearly three will mean that continues to be the case as the Lithuania match approaches. Strachan's work ethic and the genuine desire his players have to do well for him remains as high as ever. Given there will only be two games left after the September double-header, it is now pretty much a given that he will see the campaign out. With form and results improving (and heavyweights like Graeme Souness backing Strachan to stay as long as he wants) even if Scotland fail to qualify you can envisage the SFA asking him to keep going for the Euro 2020 process. The Scotland job remains one that is his to give up rather than be removed from.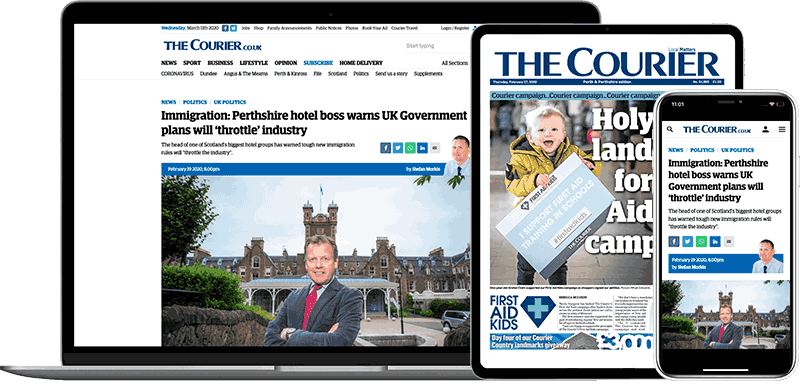 Help support quality local journalism … become a digital subscriber to The Courier
For as little as £5.99 a month you can access all of our content, including Premium articles.
Subscribe