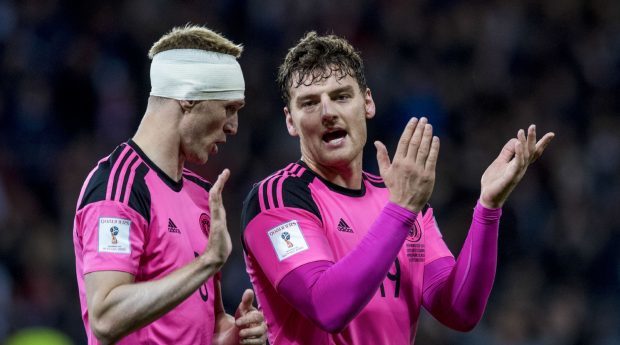 Scotland captain Darren Fletcher felt they deserved their late goal for wearing 10-man Slovakia down.
Persistence paid off for the Scots as they played themselves into serious contention for a World Cup play-off spot going into Sunday's final Group F game in Slovenia.
Fletcher, who needed stitches in an ear wound after the game, said: "We do like to score late goals.
"It is all credit to the lads.
"Listen, I have been in a team that scores late goals (Manchester United) and it's not by luck, it's by perseverance.
"You keep doing the right things for the 90-plus minutes.
"You believe in yourself and people are brave," added the Stoke City midfielder.
"What you do is you work a team side by side when they are down to 10 men and it tires them out.
"It is not coincidence that it was two men with fresh legs, Ikechi Anya and Chris Martin, who were involved in the goal.
"They saw Slovakia off after we had worked them hard.
"Once you score a couple of late goals you definitely believe in yourself in the next game.
"You know that you have to keep going because you never know when your patience will pay off."
Meanwhile, Matt Phillips could hardly contain his excitement after Scotland's last-gasp win.
The West Bromwich Albion man said: "That was right up there with anything I've ever experienced.
"You only had to listen to the atmosphere at the end. It was unbelievable.
"When you create the amount of chances we did, you always have to believe so we never gave up on it.
"We've hit the bar twice and their keeper has made some great saves but we kept going.
"That's when you have to dig in and keep believing.
"That's what we did and we got the three points.
"We had to keep calm and it showed the character we have that we managed to stick to it right to the end.
"We found a way to win and that's massive."