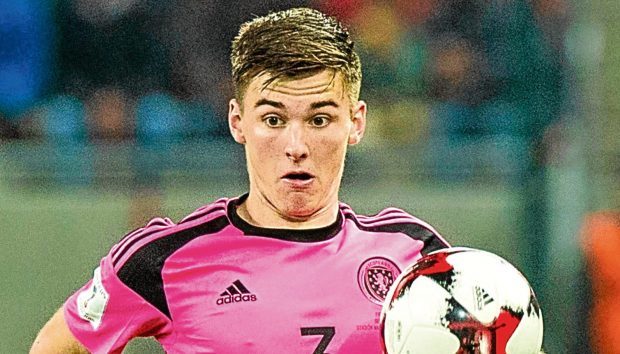 To Russia with love could be Scotland's motto after it was revealed two players had a wee cuddle to celebrate the winning goal against Slovakia.
Celtic's Kieran Tierney, having been replaced by Ikechi Anya, was in the home technical area jumping for joy when he was suddenly embraced by skipper Darren Fletcher, who had also been subbed.
The hug was a bromantic moment that said much about the unity of Gordon Strachan's squad as they try to get to the World Cup finals next summer.
Here were two players who had been told their game time was over still as happy as any colleague on the park when that Martin Skrtel own goal went in.
Tierney said: "I was just like any other fan after I came off for the last five minutes.
"I celebrated like the supporters when we scored.
"It was good. I really enjoyed that moment.
"Fletch was sitting in front of me.
"He was going mental on the bench and he turned round and cuddled me.
"The momentum we have in the squad just now and the team spirit is great. We are now just looking forward to the Slovenia game now."
Tierney's sheer delight at seeing the goal go in is all the more commendable when you consider it was the man who replaced him, Anya, who sent over the cross that saw Chris Martin just beaten to the ball by Skrtel's boot.
"The manager brought on Kech to be the more attacking player wide on the right," said the Celtic star.
"Playing there limits me in an attacking sense as Robbo (Andy Robertson) goes up all the time on the other side.
"But what a change it was!
"The manager has called it and got it spot on.
"Kech put a great ball into a dangerous area and we got the winner.
"The game lasts over 90 minutes and you need to be prepared to go right to the end as you can score at any second.
"You always think you can score but when you hit the bar twice and the keeper is having a great game, you start to worry.
"Their goalie (Martin Dubravka) made some great saves in both halves, especially from Christophe Berra's header in the first half and James Morrison's shot in the second.
"But we had the belief and that's been the same all the way through this qualifying campaign.
"We scored a late winner against Slovenia at Hampden and we did it again.
"However, the job is nowhere near done yet.
"We still have a massive game ahead on Sunday.
"We will prepare well for it, though, and go into it full of confidence."