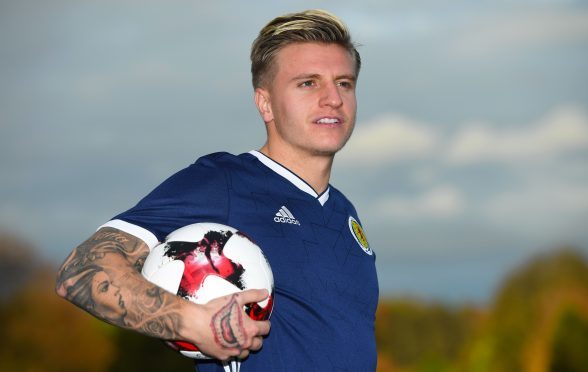 From Denis Law's one arm aloft to Kenny Dalglish's two.
From Gordon Strachan's doomed attempt to leap over an advertising board to Leigh Griffiths' catch me if you can run around the Hampden track.
From Joe Jordan kissing his fist to John Collins pointing at the name on his back.
There have been some never to be forgotten goal celebrations in a Scotland shirt.
If Jason Cummings has his way, there will be a new one unveiled at Pittodrie on Thursday night.
And, fair to say, it will be a bit different.
The Nottingham Forest striker is a well-known joker and now he has the Batman character's famous smile tattooed on his hand to prove it.
If Cummings finds the back of the net against the Netherlands, one of the best-known smiles in cinema will get a whole new audience.
He said: "'I was actually sober when I got it! It's for a goal celebration. I'll need to start scoring goals to do it. If I score this week, that will be the one.
"The Joker does it and I'm a big fan of him. But there is nothing really significant behind all of my tattoos. Except for Sandy from Grease. That's who this is meant to be. I asked for Sandy from Grease as she was in the movie, not now! I'm a big Grease fan. A massive fan. Honestly. It's my favourite movie.
"Seriously, I can do the movie word for word. I just watched it when I was growing up, I don't know why. There is a space left on my arm for Danny Zuko and the Pink Ladies!
"Why do I like The Joker? It's just his character. I think he's a bit like me.
"A striker needs a celebration. I scored that many goals up here that I was running out of celebrations. I needed a new one. Nah, I'm only joking. I don't know why I got it. I'll regret in 20 years, but live for the moment."
Cummings doesn't need a tattoo to show how he's feeling in the build-up to what he hopes will be his first Scotland appearance. Now that he's joined up with the national squad he is grinning ear to ear.
"Honestly, I am so over the moon," said the ex-Hibs man. "If I could go back and tell the 12-year-old Cummings that his dream of being called up had come true, he would be so happy. When I saw my name, I was so proud.
"Growing up, this was my dream and my family are so proud.
"Getting into the Scotland squad was always something I wanted to tick off.
"It's a friendly but it won't be for me and the lads. We are focusing on Euro 2020 and this is the start. If I get involved, I'll be on it.
"My family are proud as anything as well. For me, it would be great to get a cap and get on. But just getting called up is a massive achievement.
"I have got a wee taste of it now, so I want to keep myself in the squad and get the full thing.
"A target for me would be to try and get myself into the team and staying around the squad. Obviously, to do that you need to be playing well for your club team."
Four goals for Forest have won Cummings his place in Malky Mackay's squad and he hopes that Scottish football fans will see an improved player from the one who left Edinburgh in the summer.
"I feel that I have got fitter and a bit bigger," he said.
"There are loads of aspects. The games come thick and fast – Tuesday, Saturday, Tuesday – that you have to make sure your recovery is right.
"I just feel that I have matured as well. Playing with and against better players has made my game come on and I feel I have got better.
"It's a different standard. The opponents are a bit fitter with more stamina. It's a bit more professional.
"It did take me a while to get into it. But the gaffer's (Mark Warburton's) philosophy is how I want to play, so there is no problem there.
"He loves to play football. He is all about getting the strikers in behind and scoring goals.
"Nothing has really changed on that front – the goals are the same size.
"I have done OK. I'm still adapting. It's taken me a while to get used to it but I have four goals.
"I've played a few games out of position – wide on the right and in the hole – but as long as I am on the pitch I am happy.
"We are just two points off the top six and we have started well.
"It's good playing against different teams all the time. In Scotland, you play the same teams all the time.
"Every game is a massive down there, in a big city and stadium in front of 20,000. That benefits me because I like the big occasion and that's been great."