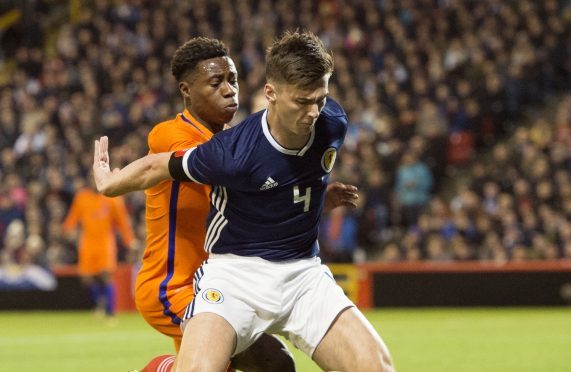 Kieran Tierney can captain Scotland for a decade, according to the man who handed him the armband.
Scotland interim manager Malky Mackay named the Celtic defender as skipper for his one and only game in charge of the national side as they lost 1-0 to the Netherlands in a friendly at Pittodrie on Thursday night.
At the age of just 20 years and 157 days, Tierney became the fourth youngest captain in the history of the national team.
He produced a mature, accomplished performance in what was only his ninth appearance for this country.
To cap it all, Tierney skippered the side from an unfamiliar role in central defence rather than the usual left-back position he fills at Celtic Park, with his versatility having already been proven at right-back in dark blue.
It is a credit to him that he looks comfortable anywhere in the team and Mackay believes he will be a leading light in the years ahead.
Mackay said: "I made Kieran captain against Holland because I think he can be captain of Scotland for 10 years – absolutely.
"He will also captain his club eventually (on a regular basis) and I think he can captain the country for years to come.
"You saw that in him the other night against the Dutch.
"He played left-sided centre-back against top, top players and he was just so calm.
"He carried the ball out, defended well and will get better in terms of his talking to the other players.
"I had no doubts, after Scott Brown got injured, that Kieran would be my captain.
"If he stays injury-free and keeps to the progression that I have seen in the last couple of years then without a doubt he can reach the very top.
"He has an attitude to die for.
"He eats, sleeps and breathes football.
"Let's remember that I was asking him to play out of position after being Celtic's left-back against Bayern Munich in the Champions League but there was no problem.
"I had to ask him to play centre-back and his immediate response was: 'Of course.'
"I then asked him: 'How do you fancy captaining your country?'
"Honestly, his smile was from ear to ear.
"He carried out his job out against the Dutch in an international as if it were an under-23 game in terms of his demeanour."
As SFA chief executive Stewart Regan revealed before kick-off – much to Mackay's surprise, as it turned out – the match against the Netherlands was probably the last under the interim manager.
However, Mackay urged whoever comes in to replace Gordon Strachan as permanent boss to consider using the Celtic star in central defence in future, what with former Dundee United man Andy Robertson providing top-class cover at left-back.
Mackay said: "At his club his role is obviously as a roving left-back and he does so, so well there for Celtic.
"For Scotland, we have a terrific, roving left-back (Robertson) and let's just say our strength in depth at centre-back is not as it should be.
"So to have someone like him who embraced the role so readily is great.
"He is quick, aggressive, athletic and steps out with the ball so comfortably – why not keep him there?"
Mackay revealed that he did not know Regan was going to rule him out of the running for the manager's position but insists he is more than happy to continue as SFA performance director.
Asked if he knew what Regan was going to say, Mackay replied: "No, obviously not.
"I was up here in Aberdeen and I was thinking about nothing else than the game."
He added: "The SFA brought me into the role and they have asked me to commit to it.
"I have only been in it for 10 months and the fact the last performance director (Brian McClair) wasn't in it very long means there is a need for stability.
"There is a need for someone to commit to it.
"That's what I was asked to do up until two weeks ago when something changed at the top level and because it was so close to the friendly somebody needed to take the team.
"But that was all I was asked to do by the board – take the Holland friendly."