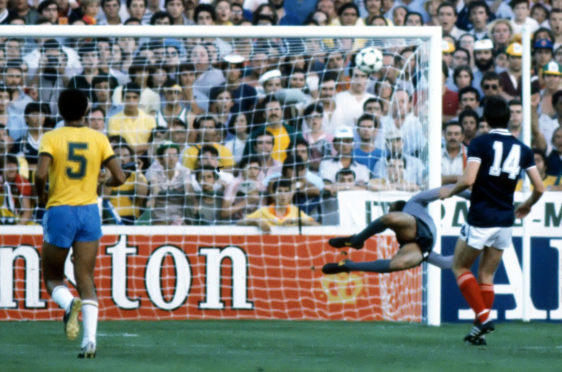 It is a controversial claim, even after all these years, but Ally's Tartan Army wasn't the best Scotland theme song for the World Cup in 1978.
That honour, I would suggest, had to go to Rod Stewart's Ole Ola. It's not because it was a particularly a good tune, nor is it one of Rod's finest vocal performances.
It did contain something special, though.
It had the spine-tingling commentary by the great Archie Macpherson of Scotland's second goal against Wales in the 2-0 win at Anfield on October 12, 1977 – a result that sent the Scots off to South America.
"Willie Johnston, and it goes to Dalglish. Lou Macari supporting and there's an opening. Good running by Buchan, read it well. There's Kenny Dalglish in there – Oh what a goal! Oh yes! That does it!"
Listening and watching on TV at the time – and leaping about the living room – it felt as if Archie was part of the actual build-up, almost as important as any player in the move that led to King Kenny's header lighting up the Kop.
Indeed, he has been a key figure in Scotland's World Cup story over the years.
That's why it is so fitting to see the voice of Scottish football bring out a book chronicling the nation's highs and lows on the grandest of stages.
In Adventures in the Golden Age: Scotland in the World Cup finals 1974-1998, Archie takes us by the hand through all the campaigns, starting in Germany and finishing in France.
Hold on, though, what about that title? Golden Age? Has it not just been one long hard-luck story that has, at times, ventured into the realms of horror?
Not according to him.
Archie says: "I had two or three people look at the book before publication and I would say there was some kind of awakening amongst them.
"We have all become too used to saying that Scotland's story in World Cups is one of failure.
"I think now, 20 years on from our last involvement, that it has sunk in that it was a Golden Age.
"We actually did superbly well to qualify for so many finals over that 74-98 period."
It is a crisp, intelligent account from someone who was there every step of the way.
He recalls the bitter disappointment of being knocked out in Germany despite being unbeaten; the whole Argentina 78 escapade complete with Willie Johnston drugs scandal; Davie Narey's definitely-not-a-toepoke against Brazil in 82; the brutal goalless draw against hackers Uruguay in Mexico four years later; Italia 90 under the management of "Andy Who?" Roxburgh; and, in great depth, the shockingly bad defeat to Morocco in France in 98 – the last game played by the Scots at a finals.
Archie still goes back to Argentina for his choice as low point of his whole time covering Scotland – the 1-1 draw with Iran.
He says: "That had to be the worst because I remember feeling actual sadness that we had gone all that way only to play like that.
"The Peru game was bad enough and I would say (manager) Ally McLeod didn't do his homework properly.
"It was a horrible experience and, years later, when we would lose to the likes of Costa Rica in Italy I would look back and honestly say that it never got as bad as 78."
There is some grim stuff there but what makes this book really interesting are the snippets from Archie that make you realise it wasn't all bad news.
For example, he cites the match against Brazil in Seville in 82 – yes, the one when a certain Dundee United player scored – as the night the Tartan Army was born.
He accepts that the term was used before then but he argues that the way the Scots conducted themselves that night helped change how the fans support the team.
"It was a festival of joy," recalls Archie.
"The Tartan Army showed the world that night how to take defeat and put it into perspective. They mixed brilliantly with the Brazilians and did the nation proud."
I also preferred his description of Narey's strike to the one infamously offered by Jimmy Hill.
Archie says: "It was a goal made even more stunning by looking as if it had been pinched from Brazil's own repertoire. The name Narey was being bounced around the globe now in perhaps a myriad of pronunciations."
In amongst all the angst in Argentina, of course, was the greatest Scotland goal of all time. Once again, Archie argues, we should find a minute to celebrate the brilliance of Archie Gemmill's strike against Holland not dwell on the chaos that surrounded the campaign.
It even gained Archie's commentary movie notoriety – one of the chapters is called Trainspotting in Mendoza – and he says: "What happened next has been featured in a major film, has been staged as a ballet, has been used as an example by motivational speakers within industry in succeeding years and been recounted numbers of times, anywhere in the world Scots have met to talk over the moments that warm their hearts."
Archie the commentator will, like the rest of us who love the game, be watching next month's finals Russia on TV.
Needless to say, it won't be the same as actually being there in the Golden Age.
He says: "Going to World Cups is not just about football. It enhances identity, boosts a nation's self-esteem and makes you feel that you can joust with giants out there on the park. I will be watching but will feel remote and unattached. I will also feel anguish when I see teams there who, with the greatest of respect, are no better than we are."