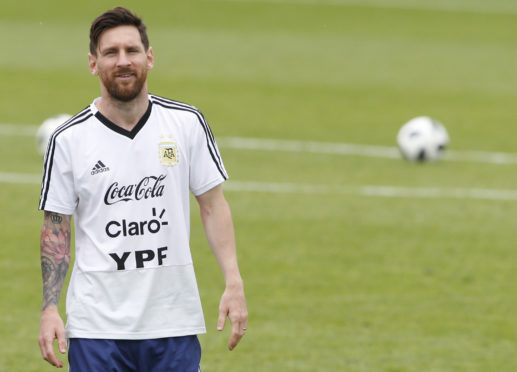 With the four-year wait over and the tournament set to get underway in Moscow this afternoon, Courier Sports Editor Eric Nicolson draws up his World Cup wish list.
Russia's humiliation
The usual rule at World Cup and European Championships is you want the host nation to prosper for the good of the tournament. Creating a buzz, I think they call it. This time? Humiliation in front of the watching world would be much more palatable. And it could happen. Andrei Kanchelskis has described this Russian team as the worst he has ever seen, and with good reason. They haven't won a game in their last seven and are ranked 70th in the Fifa rankings – the lowest of any competing nation. Put simply, if they didn't get a free pass to their own party, they wouldn't be there. For a bit of context, Scotland are ranked 42nd. In normal circumstances a group with Uruguay, Saudi Arabia and Egypt would be seen as a virtual guarantee of progression to the knock-out stages. Not the way Russia are playing, though. They may scrape through in second place but it's highly unlikely that Vladimir Putin will be able to use his football team as propaganda for the might of his nation. Saudi Arabia to beat Russia in today's opener after Robbie Williams forgets his words in the opening ceremony would be the perfect start.
Salah's revenge
Despite their managerial issues, Spain are favourites to top Group B and, for the reasons mentioned above, Egypt have got a real shot at progressing as Group A runners-up behind Uruguay. With Mo Salah's dodgy shoulder on the mend, the English Premier League's topscorer will have the chance to put a smile back on Liverpool fans' faces and cement his iconic status in Egypt (he recently received over one million votes for a presidential election without being on the ballot paper) by getting the better of the World Cup's pantomime villain, Sergio Ramos. A last minute nutmeg of the Real Madrid centre-back, followed by a postage stamp finish and a wrestling move celebration, please Mo.
A star is born
There is no such thing as a best kept secret in football these days. Children are as likely to know Santos's number nine as St Mirren or Southampton's. There is, though, still scope for a young player to go from the hipsters' 'I've known he would be brilliant since he was nine years old' at the start of the tournament to the guy who signs for Real Madrid after it, a la James Rodriguez four years ago. Sergej Milinkovic-Savic of Serbia is my pick to be that man.
The real Brazil return
Has there ever been a footballing trauma to rival Brazil's 7-1 semi-final humiliation at their own World Cup? I would suggest not. And, be quiet Dundee fans, the Doon Derby doesn't come close. The bounce-back has been impressive. They were the first nation to qualify for Russia and ended up topping the South American table by 10 points. And their form in the pre-tournament friendlies has been equally eye-catching. They even have a good keeper for once (two of them actually). There is a big, however, mind you. Don't underestimate the damage to the Brazilian psyche that Belo Horizonte inflicted, or the pressure it has heaped on this side. Four years is nowhere near enough to get over something like that. There is a collective complex that needs to be shifted. A country that was pitied for the first time at a World Cup needs to restore its pride.
The golden generation glisten
A World Cup needs a last chance for a golden generation. It was Chile in 2014 and England in 2010. Step forward Belgium this time. There really are no glaring weaknesses in their squad.  Thibaut Courtois is a world-class goalkeeper. Toby Alderweireld, Jan Vertonghen, Thomas Vermaelen and Vincent Kompany offer strength in depth at the back that would be the envy of every other nation. Kevin de Bruyne was arguably the most influential club player in Europe last season and the midfield options to surround him enabled Roberto Martinez to leave Roma's Radja Nainggolan out of his 23. Eden Hazard will be trying to join Messi and Ronaldo as a Ballon d'Or contender and win a move to the Bernabeu, while Michy Batshuayi and Romelu Lukaku offer a more direct route to goal if it's needed. The fact that England are among their group opponents, their assistant coach, former St Johnstone striker Graeme Jones is one of football's good guys, and that Belgium can offer a realistic 'if they can do it why can't we' role model for Scotland are all reasons to wish them well.
Messi ends the argument
For me there is no debate. Messi is better than Ronaldo. Always has been, always will be. Others seem to want a bit more proof and like to cast up the 'he's never done it at a World Cup' line (conveniently ignoring the fact that neither has Ronaldo). Argentina haven't won a Copa America with Messi in the side and Portugal are, of course, reigning European champions but Ronaldo made an early exit in the final. This is the last chance for both of them to make their mark at a World Cup and you wouldn't say that either has a team likely to go all the way. But that was the case with Maradona's Argentina in 1986. Their problems are all in defence but any nation that can leave Mauro Icardi, the top scorer in Serie A, out of their squad has to have a shot at winning. Towards the end of the season Messi was able to take advantage of Barcelona's unexpected early exit from the Champions League and having the title wrapped up by Christmas to get nicely rested for his last World Cup hurrah. It's time to end the debate about who is the greatest of his generation –and possibly the greatest of all time while he's at it.