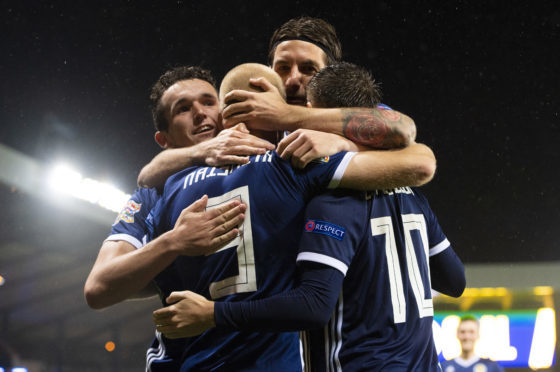 Five things learned from Monday night's 2-0 victory against Albania.
Allan McGregor is the number one
Going into the first half of the international double-header, it was hard to call who would emerge as the man in possession of the Scotland gloves at the end of it. Craig Gordon got first go against Belgium. Some critics found fault in Eden Hazard being able to find the net straight above him for one of his two goals but that would be too harsh. Gordon has to share in the blame for the opener when he gave John McGinn a pass no midfielder would thank him for, though. After he spent an evening with his goal being peppered, the night's work for Allan McGregor against Albania was the exact opposite. But the one save he did make with his feet was a top class and timely one (Scotland had just taken the lead and who knows what effect surrendering it so quickly would have had). Unless there is a serious form slump from McGregor in the next few weeks, he will be in goal when Scotland travel to Israel.
There are two John McGinns
You can see why John McGinn is seen as the successor to Scott Brown but also why he isn't there yet. There was plenty of evidence for both on Monday night. McGinn actually turns defence into attack with the ball at his feet more effectively than the present day Brown. But his positional awareness (the Belgium game) and decision-making (Albania) can still let him down. The good outweighs the bad in matches like this, though. He'll be a 50-plus caps man and has plenty of improvement left in him. The fact that he was able to brush off the Belgium slip-up so quickly is a hugely encouraging sign.
There are centre-back options at last
Who would have thought it. Alex McLeish is likely to have a hard choice when it comes to his back three in Haifa on October 11. Kieran Tierney had his best game as a left-sided centre-back against Albania and has to play. John Souttar has taken to international football like a duck to water. He was the best central defender on Friday and again three days later. Charlie Mulgrew was poor in the Belgium match but much improved in the Albania one. Scott McKenna should be playing again soon and would have been a first pick had he been fit for the last two fixtures. Will McLeish feel that three centre-backs in their early 20s is too big a risk or does he dismiss their ages and decide that Tierney, Souttar and McKenna are all better than Mulgrew?
---
>> Keep up to date with the latest news with The Courier newsletter
---
Big calls have strengthened Alex McLeish's authority
There was always a feeling with Gordon Strachan that the greater the pressure, the more conservative he became as Scotland manager. It is hard to imagine a Strachan team selection being as bold as McLeish's was on Monday. Just by leaving out Leigh Griffiths alone, he had loaded the gun if it all went wrong. This wasn't about young or old, it was about recognising who was playing well and who wasn't. The same was true of the substitution of Kevin McDonald, with his replacement Stuart Armstrong having a big second half impact. Don't underestimate the positive effect on a group of players of their managers getting the big calls right.
The Nations League is our best hope
These are no glorified friendlies. That win against Albania has set Scotland on their way to topping their Nations League group of three. Given Albania beat Israel, the Scots should be confident of getting another victory in Haifa and completing the job in November. The more familiar Euro 2020 qualifying group will kick in after that but the usual big hitters will be in with us for that one. A one-game Nations League semi-final play-off and then a one-game final against the likes of Finland, Serbia or Norway would be much more palatable.