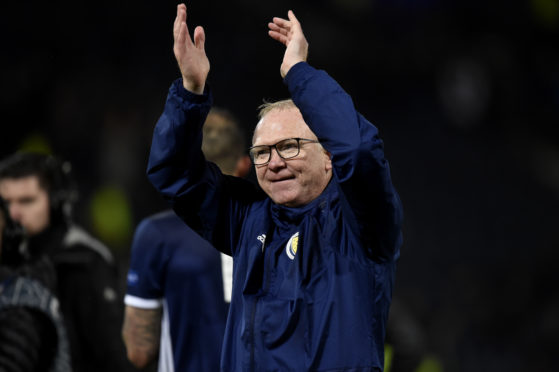 There may have been a Hampden Park lap of honour and some tangible reward for a Scotland victory for the first time in 15 years but it isn't a case of job done for Alex McLeish.
It's a case of job just begun.
A home play-off semi-final is in the bank after Tuesday night's 3-2 victory against Israel. McLeish, though, is determined that his team won't have any need for it.
And he is equally determined that Nations League advancement will not be as good as it gets in his second spell in charge of national team.
With a young side growing before his eyes, McLeish is just getting comfy.
"Football is really fickle nowadays isn't it?" he said. "You are judged early doors – two or three results and it is crisis. We have played five friendlies and only four competition games.
"I am only getting started. I just need a bit of slack.
---
---
"I want to prove everybody wrong who was doubting me. That was the key and it has always been the key. Whenever you get knocked down you have to get back up. I have done that loads of times in my career.
"If it didn't go well on Tuesday night it would obviously be a bit of a different interview. But I would be telling you I have only just started. The qualification games are the ones that mattered."
Had Allan McGregor not been able to keep the ball out of his net in the 89th minute, McLeish's determination to keep going would have been unaffected.
"I would have said to you I am only just getting started," he said. "I am determined. I have got a contract.
"I am not going to walk out after four or five games because people are shouting at me or moaning at me and there is a little bit or negativity on social media. That doesn't make me want to quit."
The Tartan Army reaction to McLeish's appointment as Gordon Strachan's successor fell somewhere between lukewarm and ice cold but he believes the process of regaining hearts and minds has gathered pace.
"I think we won them over tonight," he said.
"We celebrated with the fans. It is something we haven't done for a wee while.
"We put one foot in the door of the Euros. But we know there is still work to be done. At the end of the day the only way you can get folk to support you is to win."
When next the Scottish players convene it will be for the more traditional qualifying campaign, a campaign which McLeish hopes will see Scotland pass their play-off place on to Israel.
"I think we have got to be happy at what we've done," he said. "We had a go to top the group and we have done that. Now we, like every good team, will put it in the past.
"We have got to use these games, and the fact we can get there, to our advantage.
"We want to qualify from the group. We have got to target that.
"We can't just rely on this play-off thing. We want to qualify from the group.
"Now the players have got a wee bit of momentum. You can't prevent that you will lose players, and lose some of your good ones, at certain moments.
"That can obviously be difficult. It can be hard to keep the momentum and keep winning. But we believe the way we have come through these two games, everybody will be desperate to come back and play for Scotland.
"Third seeds have done it before. That's a fact. We will now be dangerous third seeds. Being third seeds is progress.
"I spoke to a friend of mine and he said 'where has Scotland's confidence gone? And he didn't just mean as a team, he meant as a nation.
"I thought, 'aye, let's try and big ourselves up'."
Call-offs – nine after the squad was announced and others before that – dominated the build-up to the decisive double-header against Albania and Israel.
McLeish revealed that contact had been made by a few of the above to wish him and the team well on Tuesday night.
He said: "Two or three texted me saying 'go and do it' and 'prove people wrong'.
"Kieran (Tierney) was gutted to miss out and so was John McGinn – two really good young players who have been produced in this country.
"Can they become Scottish greats? That's the challenge for them. They were very keen to ignore the scans and come and play for Scotland. But there is no way we can allow those risks with the clubs."
Andy Robertson has experienced the peaks and troughs of captaining his country over the last couple of months and the former Dundee United defender has proved his manager right in his selection.
"Andy has been a great captain over the two games," said McLeish. "He's great in the dressing room and pulls all the boys together.
"And if you don't see the overlapping Andy on the park, that's because he doesn't have Virgil Van Dijk beside him and some of the others he has at Liverpool.
"We wanted him to be tighter to our centre-halves and that curtails his attacking flair. But he gets it. He knows we're not Liverpool and he played a big tactical game.
"No-one is above anyone else and there's a great spirit in the squad.
"Andy's the equal of all his team-mates. James Forrest scores a hat-trick and Andy plays for Liverpool but we try not to single out anyone."
Talking of James Forrest…..
"His finishing was brilliant to see," said McLeish. "They were phenomenal finishes and the top strikers would have been proud of them.
"He was disappointed on one of the earlier trips and I spoke to him after he'd had his shower and said to him 'sorry, but there's definitely a place for you in this team.'
"I had been going with the 3-5-2 and that didn't suit the wingers and we tried to do a 3-4-3 which gives wingers a better chance but perfecting that takes a lot of time."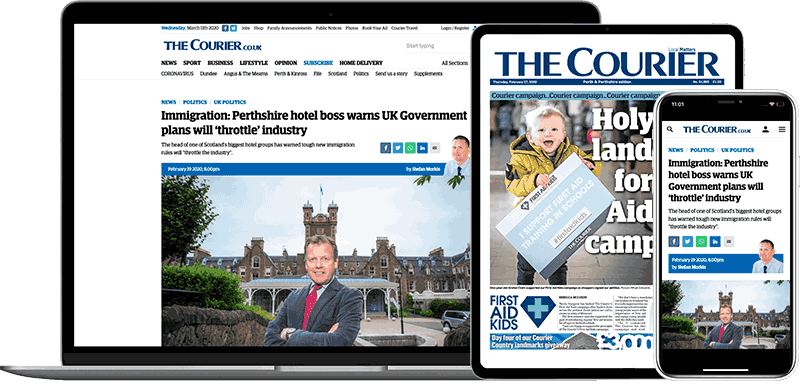 Help support quality local journalism … become a digital subscriber to The Courier
For as little as £5.99 a month you can access all of our content, including Premium articles.
Subscribe